Massive Cheating Allegation Scandal Erupts on Hustlers Live
Massive Cheating Allegation Scandal Erupts on Hustlers Live
Author
Vargoso
Published
10/3/2022
Updated
10/3/2022
The bizarre hand between Garrett Adelstein and Robbi Jade Lew has even been covered by mainstream press internationally.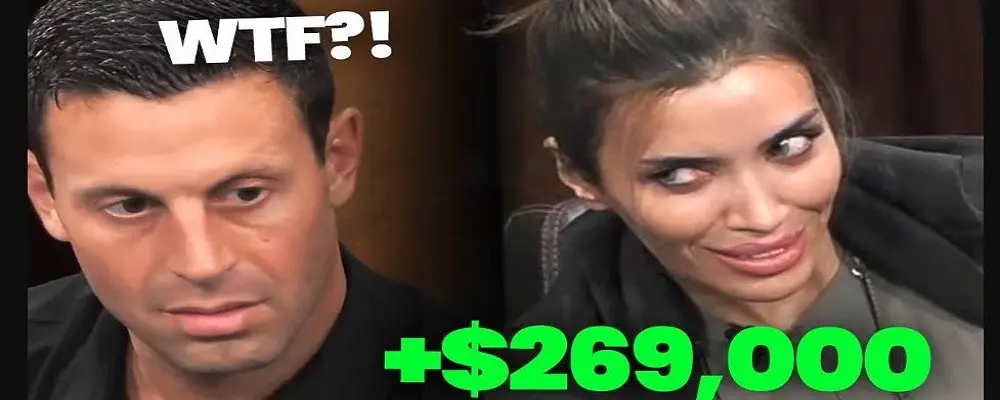 Lew Calls Adelstein with Jack-High on Stream, Sparking Cheating Allegations
The fateful hand played out on a live streamed $100/$200/$400 No Limit Hold'em cash game at the Hustler Casino in Gardena, California last Friday. 10-time WSOP gold bracelet winner poker legend Phil Ivey was also at the table.
However, the two main characters are Garrett Adelstein, a regular on the show and a well-known cash game crusher, and Robbi Jade Lew, a relative newcomer to the game. In the hand in question, Adelstein was holding 87 of Clubs on the turn for a straight-flush combo draw. Lew had J4 off-suit, with absolutely no draws. Adelstein bet $10,000 into a pot of $12,000. Lew decided to min-reraise, already an odd play with essentially 0% equity in the hand. However, it pales in comparison to what happened next.
Adelstein moved all-in for his remaining $130,000. Lew, holding Jack high with no draw, called… You can watch the remarkable hand play out below.
After the cards were tables, Adelstein was noticeably distraught. Lew gave a very clumsy explanation as to why she made the call, at one point even saying she thought her opponent had Ace-high, which still would have beaten her hand. 
The two parties involved in the hand left the table and it was confirmed by both that Lew paid back the whole $130,000. However, this only added more fuel to the fire, as Adelstein admittedly took it as an admission of guilt. Later, Lew went on to claim that she was threatened to give back the money - which would be a felony on Adelstein's part…
It is not the only inconsistency in Lew's recanting of events. In a sideline interview during the stream, she claimed she misread her hand and thought was holding J3, the cards she got dealt in the previous hand, for a bottom pair. However, as of her latest interview with Joe Ingram, she no longer claims that was the case. In the meantime, it was pointed out by many that she is clearly shown looking at her hole cards for approximately 15 seconds before making the call. 
The basic theory on how Lew could have cheated is that someone, having access to hole card information through the RFID signals that are needed for the graphics on the live stream, relayed information to her that she was ahead in the hand in question. It could have been done through a vibrating device hidden on her body. This whole story is very much akin to another Calofrinan casino, Stones Gambling Hall's cheating scandal from 2019 involving the infamous Mike Postle.
Doug Polk Believes Cheating Was Likely, Negreanu Does Not
After the incident, Adelstein expressed in a Twitter post that he is 100% sure he was cheated, and would not have accepted the money back otherwise. Doug Polk, one of the biggest poker YouTubers, seems to agree with him to the degree that he believes it's more likely Lew cheated than not. He keeps referencing the similarity between this hand and one he played on PokerStars against a player who had access to his hole card information through spyware years ago.
On the other hand, Daniel Negreanu, another poker pro with a massive online following, came out on the side of Robbi Lew. He believes she did not cheat, and even said on Twitter that Adelstein may be liable for defamation damages. In the meantime, Joe Ingram held three 10-hour-long live streams, conducting one of his signature thorough investigations into the matter…
Mainstream Media Covers the Scandal
One thing is for sure: this new cheating allegation scandal gave poker a lot of attention by the mainstream press. Among others, USA Today, the New York Post, and the Daily Mail from the UK covered the story on their websites. It also helps with the media attention that Adelstein previously competed on the hit reality show Survivor. 
Stay tuned on our  Telegram  channel for more EV+ news.
Review
Private clubs, rake stats, free hand histories, secret offers and more
Gambling industry news and insides, ratings of best poker rooms, bonuses, races and rakeback. The most undiscovered and fishy rooms of internet. Consulting and players' support. Working since 2013.
2013–2023. All rights reserved