Poker's Biggest Stars Are Ready for WSOP 2022
Poker's Biggest Stars Are Ready for WSOP 2022
Author
Vargoso
Published
6/2/2022
Updated
6/2/2022
Let's take a look at what Hellmuth, Negreanu, and Polk are up to as the Series is starting.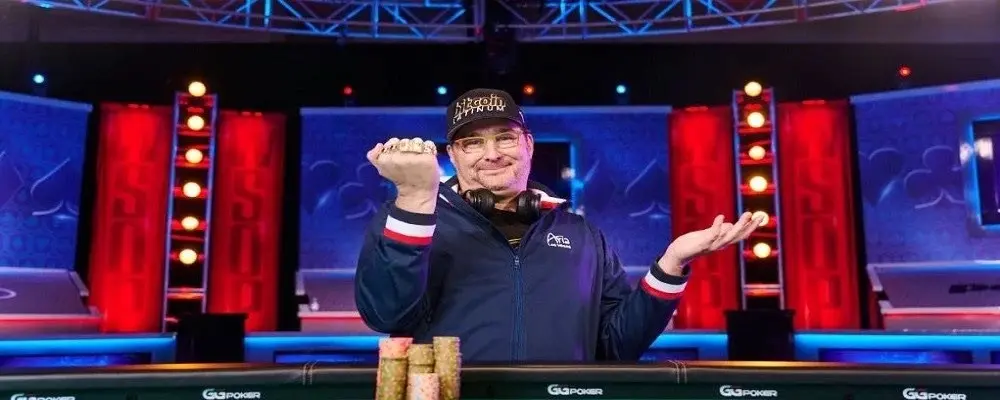 Phil Hellmuth Misses WSOP Kickoff Due to Illness
The 53rd annual World Series of Poker kicked off May 31 at its new venues, Bally's and Paris Las Vegas. This is actually the first WSOP that takes place on the famous Las Vegas Boulevard, better known simply as "the Strip". As for its two previous homes, Binion's Horseshoe Las Vegas was located on Fremont Street; and the Rio Casino is on Flamingo Road.
The first event on the schedule - per tradition - is the $500 Casino Employees event. Right after, the $100,000 High Roller Bounty event follows.
One person, however, was conspicuously missing. All time bracelet leader Phil Hellmuth was expected to be in the mix in the first $100K event, chasing his 17th WSOP gold. Alas, due to what the man himself described as "traveler's diarrhea", he could make it.
Last year's World Series was a successful one for the old "Poker Brat". Not only did he win his 16th gold bracelet, expanding his record, but he also made 7 other final table finishes, including two runner-ups. Hopefully, he'll get better soon and can compete on the highest level again.
Daniel Negreanu's Highest Rated Player in His Own $25K Fantasy Draft
"Kid Poker" Negreanu is known to like action, especially during the Series. He has made ambitious side bets and crossbooks in the past about winning bracelets. He also likes fantasy sports, especially hockey - being from Canada, no surprise there.
To combine two of his favorite pastimes, fantasy sports and poker, he's hosting his poker fantasy league again for the first time since 2019. 14 poker fantasy contestants got to bid on players to form their own line-up of 8 poker players. Whoever's team performs the best in the Series wins. The prize pool is a juicy $25,000.
The fantasy contestants include such poker stars as Negreanu himself, Maria Ho, Shaun Deeb, or Dan Shak. Some of these players were drafted in the fantasy contest on other players' teams. Negreanu, for example, got picked by the No Gamble No Future podcast group.
By the way, Daniel Negreanu ended up being the highest-rated player in the draft organized by himself with a $111 value (each team had just $200 to make their line-ups). This means he is thought to be the player with the best chance of winning the most bracelets this summer. He was followed by Shaun Deeb, another fantasy draft contestant, at $110.
In the midst of all this, Negreanu still found time to complain about a lack of vegan options at the new WSOP venue's buffet. His signature WSOP vlog series also returned to his YouTube channel.
Doug Polk Reminisces About the Good Old Times
Polk has announced his retirement from poker multiple times. He's also come out of retirement multiple times. Therefore, we can never be sure whether he can be bothered to come out to play in the WSOP or not.
Recently, he relocated from Las Vegas, Nevada, to Austin, Texas. This makes it less likely that he'll come to Vegas to take a shot at his 4th bracelet. As he put it on Twitter, "Anyway I'm not going to the WSOP most likely. Gotta defend the home turf. Maybe for the main if I think I can play 11 days w/o punting off".
He also went on to express longing for the good old days, a simpler time in poker.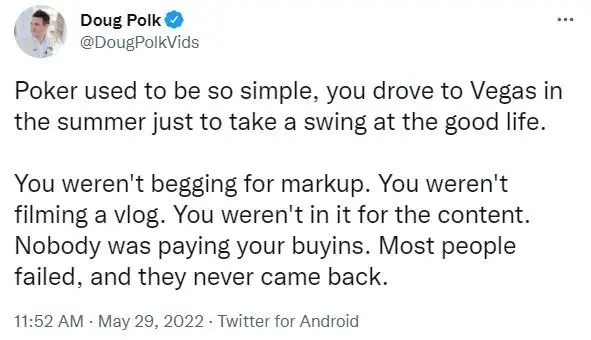 What induced this feeling of nostalgia in Polk may have been a little controversy of late. "Poker Bunny", who's best known for playing low to mid-stakes cash games on streams while being scantily clad, received some criticism in the online poker community for charging 1.1-1.8 markups in her WSOP package.
Stay tuned on our Telegram channel for more EV+ news.
Review
Private clubs, rake stats, free hand histories, secret offers and more
Gambling industry news and insides, ratings of best poker rooms, bonuses, races and rakeback. The most undiscovered and fishy rooms of internet. Consulting and players' support. Working since 2013.
2013–2023. All rights reserved