Pokerstars countries guide (2023 Update)
Pokerstars countries guide (2023 Update)
Have you ever wondered if you can join Pokerstars? Look no further: our Pokerstars country guide is everything you need to know about where to roll.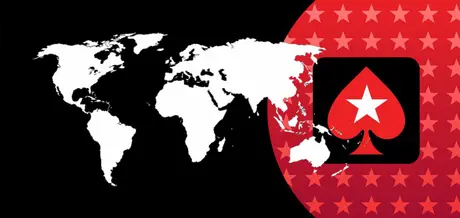 PokerStars: where to roll?
Pokerstars is literally known worldwide and it would seem that you could play on PS anywhere. However, this is not the case. And the question of "Where can I legally play at Pokerstars?" is a very relevant one.
To save you time, we've compiled an up-to-date list of the countries where Pokerstars is now allowed. 
Remember that as Pokerstars is a licensed online poker room, there are restrictions on underage gambling (18+, and in some countries there may be higher age limits).
Andorra
Argentina
Armenia
Aruba
Austria
Azerbaijan
Bahamas
Bahrain
Bangladesh
Barbados
Belarus
Belgium
Belize
Bermuda
Bolivia
Bosnia and Herzegovina
Botswana
Brazil
Bulgaria
Cambodia
Canada
Chile
Costa Rica
Croatia
Czech Republic
Denmark
Dominican Republic
Ecuador
Egypt
El Salvador
Estonia
Faroe Islands
Finland
France
French Polynesia
Germany
Ghana
Greece
Greenland
Guatemala
Honduras
Hungary
Iceland
India
Indonesia
Ireland
Italy
Jamaica
Japan
Kazakhstan
Kenya
Kuwait
Kyrgyzstan
Latvia
Lebanon
Liechtenstein
Lithuania
Luxembourg
Madagascar
Malaysia
Malta
Mauritius
Mexico
Moldova
Monaco
Mongolia
Montenegro
Morocco
Namibia
Nepal
New Caledonia
New Zealand
Nicaragua
Nigeria
North Macedonia
Norway
Oman
Panama
Papua New Guinea
Paraguay
Peru
Philippines
Poland
Portugal
Puerto Rico
Qatar
Romania
Rwanda
Saint Kitts and Nevis
Saint Lucia
San Marino
Senegal
Serbia
Seychelles
Slovakia
Slovenia
South Africa
South Korea
Spain
Sri Lanka
Sweden
Switzerland
Taiwan
Tanzania
Thailand
Trinidad and Tobago
Tunisia
Turkey
Uganda
Ukraine
United Arab Emirates
United Kingdom
Uruguay
Uzbekistan
Vatican City
Venezuela
Vietnam
Zambia
PokerStars restricted countries list
Real money poker is prohibited in the following countries and territories:
Europe: North Macedonia, Netherlands, Russia, Cyprus, Serbia.
Asia: India, Bangladesh, Malaysia, Pakistan, UAE, Afghanistan, Bhutan, Brunei, East Timor, Georgia, Hong Kong, Iran, Iraq, Israel, Jordan, Bahrain, Kuwait, Maldives, Myanmar, North Korea, Palestine, Qatar, Saudi Arabia, Singapore, Syria, Tajikistan, Turkey, Yemen, China, Taiwan.
Africa: Egypt, Benin, Burkina Faso, Burundi, Cameroon, CAR, Chad, Congo, Djibouti, Eritrea, Ethiopia, Ghana, Gambia, Guinea, Kenya, Lesotho, Malawi, Libya, Mali, Mauritania, Mozambique, Niger, Nigeria, Rwanda, Sao Tome and Principe, Senegal, Sierra Leone, Somalia, South Africa, Sudan, Swaziland, Tanzania, Togo, Tunisia, Zimbabwe, Western Sahara.
Americas: Colombia, USA, Anguilla, Antigua and Barbuda, Cuba, Curaçao, Dominica, Gabon, Grenada, Guyana, Haiti, Puerto Rico, Suriname.
Oceania: Australia, French Polynesia, New Caledonia, Samoa, Fiji, Guam, Kiribati, Marshall Islands, Micronesia, Nauru, Palau, Solomon Islands, Tonga, Tuvalu, Vanuatu.
PokerStars Europe
Europe is very heterogeneous when it comes to gambling legislation.
Poker reservations of Italy, France, and Spain (Europool).
Regional sites. In countries with regulated gaming markets, Pokerstars is available via a local domain. These countries have their own payment methods, rules, and restrictions. For example, in Denmark and Germany
PokerStars.eu with license in Malta. Countries where there are no clear gambling laws and restrictions on Pokerstars.
PokerStars Asia
Pokerstars is banned in China, Israel, and all Muslim countries in the Middle East.
Most Asian players are from:
India, excluding states where online poker is legal: Tamil Nadu, Andhra Pradesh, Telangana, Assam, Odisha, Sikkim, and Gujarat.
Japan.
Thailand.
PokerStars USA and Canada
PokerStars now only officially operates in New Jersey, Pennsylvania, and Michigan. Each state has its own player pool. 
In Canada, PokerStars Ontario was launched following the legalisation of online gambling in the province of Ontario (April 2022). Players from the rest of the country can play at pokerstars.com.
PokerStars LatAm
This is currently the most promising region for expansion. Gaming legislation is still in its infancy in most countries. 
In Brazil, Mexico, Peru, and Argentina it is possible to play on pokerstars.com. Colombia is the only country where PokerStars is not available.
Even if the local authorities legalise online poker in the future, Stars will do its best to stay in this market.
PokerStars CIS
PokerStars does not operate in Russia, Georgia, Tajikistan, and the Baltic countries
The site was forced to withdraw from Estonia, Latvia, and Lithuania following the legalisation of gambling. It is likely that Pokerstars did not obtain a local licence for commercial reasons.
The PokerStars Sochi site was closed in March 2022.
What should I do if I move to another country?
For professional poker players relocating to another country may offer advantages in terms of better quality of life, tax status, and access to online poker rooms.
If you already have a Pokerstars account registered in another country, you will need to provide clear copies or photos of the following documents:
A government-issued photo ID with your name, date of issue, and date of birth (national ID card, passport, driver's licence).
A utility bill showing your full name, current address, and billing date (no older than 3 months).
A copy of a bank statement showing recent transactions in your new country of residence.
You can upload documents via the desktop client, mobile app or the Pokerstars website. Access to your account will be restored once document verification is complete.
Future Prospects
Over the past few years, PokerStars management has sought to work within the legal requirements of each jurisdiction and to obtain licences wherever possible.
We believe that in the coming years, PokerStars will seek licences in the Netherlands, Switzerland, and all US states where online poker is legal.
Contact us to get a deal and start playing now:
FAQ
✅ Can I use a VPN to play at PokerStars?
✅ Where can I play at PokerStars?
✅ Is PokerStars legal?
✅ Where is PokerStars headquartered?
✅ Can I play Pokerstars in the US?