Independent
| | |
| --- | --- |
| Bonus | 100% up to $600 |
| Rakeback | up to 25% |
Characteristics

| | |
| --- | --- |
| Room type | Licensed |
| License | Isle of Man |
| Payments | |
| Platforms | |
Key facts
Best poker site
HUD and trackers support
$600 welcome bonus
Best software
Action across all games and stakes
No rakeback
Our ratings

| | |
| --- | --- |
| Reliability | 5.0 |
| Game selection | 4.5 |
| Bonuses and promotions | 4.3 |
| Casual players | 4.2 |
| Deposits and withdrawals | 4.6 |
| Convenience of the software | 4.4 |
Pokerstars review
PokerStars is a top-of-mind that even people non-related to gambling will remember when it comes to online poker. The site deserves this reputation: launched in 2001 by the Scheinberg brothers, the room is the most recognizable in the world; for over two decades, PS has been a benchmark in software development, game portfolio, reliability, and customer service for worldwide players, whether they are from Great Britain, Germany, or Brazil.
With buy-ins starting from $0.11 and stakes from $0.01/$0.02, weekly tournaments with millionaire guarantees, annual online series with booming prizes of $100,000,000, and massive events with EPT, APPT, PSPC, the PokerStars game portfolio is unmatched. It's complex to even compare the games: PKO events, Grand Tour, cash games, MTT, 6+ Hold'em, Tempest, HORSE, Badugi, Razz, Spin&Go with prizes up to $1,000,000.
Worldpokerdeals has reviewed PokerStars in 2023 to expose all its secrets. In our analysis, you will learn:
What are the latest changes and innovations
What is the real rakeback at PokerStars
Is it true that PS is losing ground every year?
How do "Stars" currently treat regulars and amateurs?
Bonuses and promotions
The PokerStars loyalty program consists of several permanent reward schemes: instant $30 or a matched first deposit bonus up to $600. Stars Rewards and Deal Jackpot are two programs with semi-random prizes and raffles.
Also, tasks or challenges can be considered permanent promotions. They can be of any nature — from bets to winning in the cash tables with a certain hand.
PokerStars informs about current and new promotions via its official social networks: Instagram, Twitch, Twitter - @PokerStars.
PokerStars First Deposit Bonus: $30 in cash and tickets or 200% up to $600 in installments. Check out our guide to choose wisely, how to activate it, and wager it.
Pokerstars rake
PokerStars charges rake using the weighted contributed method and apply a no-flop, no-drop principle. The fee starts at 3.5% at the lowest stakes, grows to 5% at medium, and becomes 4.5% above $5/$10 games.
| Stake | Rake | 2 players cap | 3-4 players cap | 5+ players cap |
| --- | --- | --- | --- | --- |
| $0.01/$0.02 | 3.50% | $0.30 | $0.30 | $0.30 |
| $0.02/$0.05 | 4.15% | $0.50 | $0.50 | $1.00 |
| $0.05/$0.10 | 4.50% | $0.50 | $1.00 | $1.50 |
| $0.08/$0.16 | 4.50% | $0.50 | $1.00 | $1.50 |
| $0.10/$0.25 | 4.50% | $0.50 | $1.00 | $2.00 |
| $0.25/$0.50 | 5.00% | $0.75 | $0.75 | $2.00 |
| $0.50/$1 | 5.00% | $1.00 | $1.00 | $3 |
| $1/$2 | 5.0% | $1.25 | $1.25 | $3.5 |
| $2.50/$5 | 5.0% | $1.50 | $1.50 | $5.00 |
| $5/$10 | 5.0% | $2 | $2 | $7.50 |
At micro-stakes up to $0.10/$0.25 (NLH) and PLO, there is a difference from 3.3%-4.5%
At MTTs, the commission decreases as the buy-in grows. 18% for the cheapest ones to 4.7%. About SnG, 10% for micro stakes dropping to 2.44% for the most expensive games.
Pokerstars rakeback
The most controversial point of debate. On the one hand, PokerStars abandoned the classic rakeback model (Supernova Elite) to offer "chests" with random rewards from free spins in slots to MTT and SnG tickets. On the other hand, PS has the lowest commission in cash games.
On average, PokerStars rakeback does not exceed 4%.
However, after four years of trying to convince players that they don't need rakeback but losing first place to GGPoker, PS decided to test a regular cashback plan for its players again. According to the new program, which is being tested from July 6 to September 30, 2021, Stars plans to give from 15% to 65% rakeback.
Rewards VIP Program
It's a 6-level system:
Blue ($0.60);
Bronze ($0.72- $12);
Silver ($1.8- $30);
Gold ($6- $100);
Diamond ($15- $250);
Black ($42- $70).
The first level gives only $0.60, and the others have a random value. Each has 10 sublevels; the player gets one chest after reaching any of them. After collecting all 10 in 28 days, there is a level up.
For every $1 paid in rake in Zoom and cash games, 100 points are awarded; in tournaments—45, but the number of points required to advance is different. The exact formula is not disclosed by PokerStars; however, as far as we know, it's volume-based, combining the frequency of deposits.
| Blue | Bronze ($) | Silver ($) | Gold ($) | Diamond ($) | Black ($) | |
| --- | --- | --- | --- | --- | --- | --- |
| 0.60 | 0.72 | 1.80 | 6 | 15 | 42 | 110 |
| | 0.84 | 2.10 | 7 | 17.50 | 49 | 310 |
| | 1.20 | 3 | 10 | 25 | 70 | 530 |
| | 3.60 | 9 | 30 | 75 | 210 | 34 |
| | 6 | 15 | 50 | 125 | 350 | 15 |
| | 12 | 30 | 100 | 250 | 700 | 1 |
The rewards can be either random — cash, StarCoins, or gambling products such as tournament tickets, free spins in the casino, or free bets in the bookmaker.
StarsCoin in an internal PS currency is used to pay for buy-ins of several tournaments, purchases in the room, or participate in The Deal Jackpot. The latter is similar to a slot in which, depending on the combination, you can win up to several hundred thousand for 7 or 70 StarsCoins.
Summing up
It's complex to say anything good about the current rakeback system, or rather the Stars Rewards "generous gifts," as it is called by the room. 1-4% cashback is definitely not what you expect from the online poker leader. Its only advantage is that random prizes tend to attract recreational players.
Games and traffic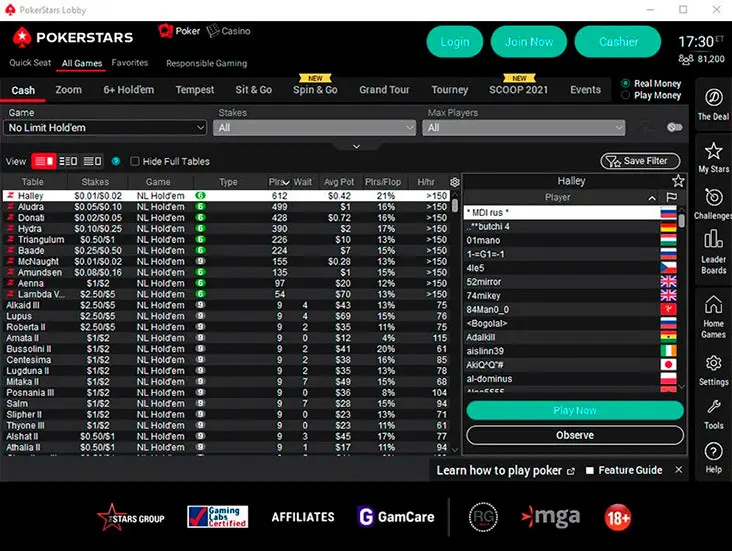 Average online 90000
Best time to play 20:00 GMT+3
In mid-2021, PokerStars was struggling for the first spot in the PokerScout ranking in terms of traffic, but they still hold the leadership of online poker in cash — 3,500 active players on average and 6,000 during Sundays during the peak time. It's difficult to highlight any discipline: there is action everywhere.
Cash Games: Hold'em, Omaha, Fast-fold poker
Texas Hold'em is played from micro-stakes to $0.01/$0.02 to $200/$400. Of course, most of the action falls on the lowest stakes up to $0.5/$1; high stakes tables are available during the peak time or weekends, or just when any fan hits the site. In NL Hold'em, tables are available in dollars and euros in 9-max and 6-max (the most popular) formats.
In mid-2021, PokerStars was struggling for the first spot in the PokerScout ranking in terms of traffic, but they still hold the leadership of online poker in cash — 5,200 active players on average and 8,600 during the peak time. It's difficult to highlight any discipline: there is action everywhere.
Cash Games: Hold'em, Omaha, Fast-fold poker
Texas Hold'em is played from micro-stakes to $0.01/$0.02 to $200/$400. Of course, most of the action falls on the lowest stakes up to $0.5/$1; high stakes tables are available during the peak time or weekends, or just when any fan hits the site. In NL Hold'em, tables are available in dollars and euros in 9-max and 6-max (the most popular) formats.
Pot Limit Omaha
Omaha is not that popular as Hold'em, but it still features enough action to play micro-stakes and up to $1/$2, although only at 6-max tables.
Fast-fold poker (Zoom)
PokerStars offers Zoom for PL Omaha, and NL Hold'em at the same stakes as classic tables, not only in 6-max format but also in HU. You can choose tables with or without caps.
Other games
PokerStars tends to innovate to remain a fresh room, introducing unusual formats like Tempest, Swap, Deep Water, Fusion, etc. Most of these games don't survive much time.
The lobby also includes mixed (HORSE, Mixed Holdem) and Stud, Razz, 5-card draw, 2-7, Badugi games.
PokerStars Tournaments MTT
It's fair to say PokerStars has the best tournament grid in terms of guarantees and variety of disciplines: many Hold'em and Omaha variations, Stud, Draw and Mixed games, plus many formats, from regular to hyper-turbo, re-entry, rebuys, freezeouts, PKO, shootouts, Zoom, etc.
Top tournaments:
[Sunday Storm]. GTD - $ 150,000, buy-in - $11.
[Sunday Million] PKO. GTD - $1,000,000, ticket - $109.
[Sunday HR] PKO. GTD - $150,000, entry - $1,050.
[Bounty Builder HR] PKO. GTD - $350,000, participation fee - $530.
[Mini Bounty Builder HR] PKO. GTD - $300,000, registration - $55.
Best Omaha MTTs:
[Sunday Supersonic]. GTD - $12,000, entry - $215.
[Sunday Komania] High-Low, Progressive Knockout. GTD - $8,000, ticket - $109.
[Omania]. GTD - $ 2,000, buy-in - $55.
Satellites from $0.22 are available throughout the day, and guarantees are significantly boosted in anniversary tournaments.
Spin & Go
Pokerstars is rightfully considered to be one of the best poker site for playing Spin and Go. This format is already popular across all modern online poker rooms; PokerStars is mainly responsible for popularizing Spin & Go. The blinds depend on the multiplier — from 2 to 5 minutes.
| Multiplier | Probability per 1,000,000 games |
| --- | --- |
| 12 | 1 |
| 240 | 30 |
| 120 | 75 |
| 25 | 1 |
| 10 | 5 |
| 5 | 85 |
| 3 | 414,012 |
| 2 | 494,882 |
x10 multiplier rewards two players and x25+ all participants. The choice of buy-ins constantly changes for special events and promotions. The minimum is $0.25, and the maximum is $1,000.
Besides the traditional NLH 3-max format, PS offers PLO across 5 stakes from $1 to $25. From the unusual, we highlight the Flash format, a version on steroids with a blind structure of one minute, and Spin&Go Max, which deserves an extra comment.
Spin&Go Max
A revisited version of regular spins with increased randomness in the number of participants — from 3 to 8. There are 7 stakes available from $1 to $100, and the maximum multiplier is x12,000.
Nuances:
The winner chooses 1 of 3 random rewards
The more participants, the higher the prize pool
After the number of hands set at the beginning of the game, the players go all-in automatically
Let's summarize:
Even if you are a PokerStars detractor, it's not possible to find any flaw in this area. The game offering includes a massive MTT grid, cash games around the clock in many formats, and unusual games that attract casual players to the tables.
Softness of the field
PokerStars needs no introduction and attracts new players only with its name and the "Red Spade" logo. 20 years on the market, a huge community worldwide, millionaire guarantees — the flow of fans to PS is guaranteed for a long time.
However, despite this, the field cannot be called soft. Even in the micro-stakes, we have spotted fierce competition among regulars from South America and Europe. Nevertheless, the PS "no-rakeback" policy, restrictions to table selection like active waiting lists, and Aurora scare rake machines and hardcore grinders.
Ambassadors
Not a long time ago, PokerStars used to employ famous celebrities (from movie stars to the best athletes globally) to promote its room, but by 2023 PS revisited its policy and is no longer chasing big names. The current ambassadors are almost all professional players: Lex Veldhuis, Sam Grafton, Andre Coimbra, Jennifer Shahade, among others.
Nevertheless, an exception is made with the leading ambassador of PokerStars: Brazilian Neymar, one of the best football players in the world.
Attitude towards professional players
Tracking software — yes
Auto-seating scripts — no
Pre-flop charts — no
Bumhunt — yes
Mining — no
On the one hand, PokerStars have long hinted that regulars should look for another place to "work." On the other hand, trackers are still allowed, bumhunt is somehow possible, and there are practically no alternatives among large operators with similar conditions.
Let's highlight some features of the PS policy towards pros.
Tracking software like PokerTracker, Hand2Note, Holdem Manager, DriveHUD is allowed.
There are helpers like StarsCaption
You can download your hand history
Track player activity through search
Take notes
Select weak players and avoid regulars
Regarding restrictions that affect the game, PokerStars does not allow to queue on a waiting list without at least one active table and multi-tabling more than 4.
PokerStars software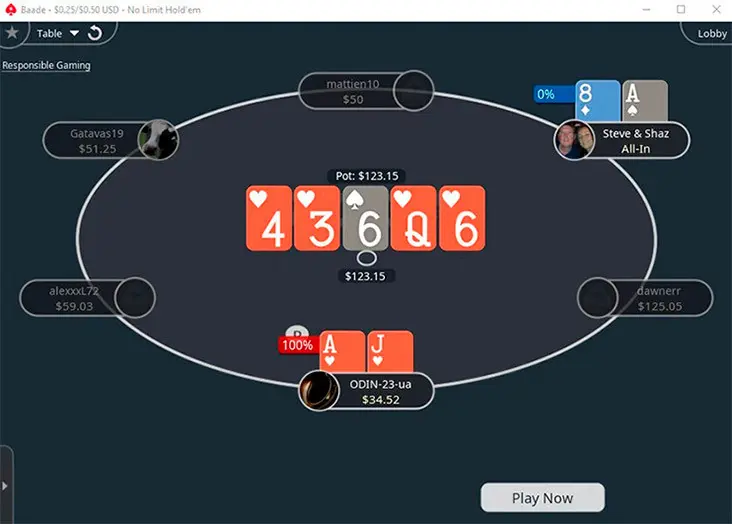 PokerStars runs its own IT department to develop its platform. Like most Stars do, its client is at the highest level — crashes are rare, apps are super stable and friendly.
An exceptional case is the Aurora engine when PS didn't consider users with old computers and added many features demanding high resources.
How to disable the Aurora engine at PokerStars in 2021
The Poker Stars client is available for Windows and macOS. The app is the same for both platforms. The client is well-designed and user-friendly: the main menu is vertical and located on the right, profile settings can be accessed by clicking on the avatar, and there are filters for each poker format. Of the unique features we highlight:
Run it twice
Throwing objects at opponents
Active waiting lists
PokerStars plans to introduce an anti-bumhunt feature, Seat Me, adding random seating to cash tables. So far, it has been implemented only in small reservations and Split Holdem.
Mobile client
PS offers a full-fledged mobile app for smartphones running Android and iOS. We highlight that all games are available: cash games, MTT, SnG, etc., can be played on the run.
Overall, the PokerStars client can be considered the best software in the industry. It's compatible with all modern devices, tracking software is allowed, it's stable; on top of that, much third-party software is available, although you'll need to double-check if the tool is whitelisted on the PS official website.
Reliability
Year of foundation — 2001
License — Man
RNG — iTechLabs
Indentity verification — necessary
For 20 years, PokerStars has proved the status of #1 poker room in terms of reliability and loyalty to users. PS tries to meet clients halfway in a complex situation, which is rare even among top operators. For example, the site has paid from its pocket massive prizes after software failures.
This is probably the most transparent room, sharing all documentation with its players. RNG certificates and licenses can be checked on the PokerStars website.
If there is a room in which you can feel 100% safe, PokerStars is it.
Deposits and withdrawals
| Payments | Deposit | Withdrawal |
| --- | --- | --- |
| Visa | $5-$10,000 | $100-$10,000 |
| MasterCard | $5-$10,000 | $100-$10,000 |
| Skrill | $10-$10,000 | $10-$10,000 |
| Neteller | $10-$10,000 | $10-$10,000 |
| Webmoney | $10-$10,000 | $10-$10,000 |
| ecoPayz | $10-$10,000 | $10-$10,000 |
| MuchBetter | $10-$10,000 | $10-$10,000 |
Pokerstars offers a regular cashier with e-wallets and cards for deposits, but cryptos are still unavailable. Skrill, Neteller, ecoPayz, Webmoney can be used, and CAD, USD, British Pound, and Euro are included in the currencies list.
The minimum deposit is $5, and the default maximum is $1,000, although it can be increased with customer service. There are no related fees for money transactions.
As usual, the final list of payment methods depends on your country. The withdrawal time ranges from minutes to e-wallets to 5-10 days to cards.
Account verification
Account verification is required to withdraw funds. Such a process usually takes no more than 3 days, and you must provide:
Copy of passport / National ID / Driver's license
Utility bill including full name and address (no older than 3 months)
Bank statement (no older than 3 months)
If you used a card to deposit, a copy of the front side of it.
All documents can be sent directly via the desktop client in the Contact us section.
Summary: pros and cons of playing at PokerStars
PokerStars remains the best at:
Close to perfect software.
Massive traffic.
Trackers and HUD compatibility.
High guarantees in MTT events and series.
Comprehensive selection of games and formats.
Soft field at low stakes.
Reliable brand.
Reasons to look for another room:
No rakeback.
Multitabling restricted to 4 tables.
Many regs at high stakes.
In summary, it's hard to call PokerStars.com a perfect platform for cash grinders, mainly due to the lack of rakeback and restrictions to multitabling. About MTT, the situation is quite different. There is a more than decent portfolio and many events throughout the day.
For those who play for fun, PS guarantees action and safe gambling from the biggest poker room.
Why play with us?
Worldpokerdeals is a leading company in the professional affiliate services market with vast experience in providing players the best conditions.
For more information on the PokerStars, write right now. We are online seven days a week!
FAQ
✅ Can I play PokerStars from Germany, the United Kingdom, and Brazil?
✅ Is PokerStars legal in the US?
✅ How can I contact PokerStars support?
✅ Is there any PokerStars rakeback?