Rob Yong's Home Game: live high stakes poker action
Rob Yong's Home Game: live high stakes poker action
For many years, high stakes poker television shows have had many fans; that's the reason why many poker sites sponsor these shows. Nowadays, with new options like Twitch, PokerGO, or YouTube, it's easier to organize a live game and stream it to millions of viewers around the world. This week Rob Yong, partypoker's partner, hosted an exciting game with $500/$1,000 blinds and many poker superstars.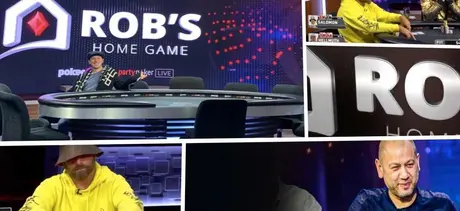 Rob's Home Game: four days of $500/$1,000 action
From December 10 to 13, Rob Yong invited more than ten poker professional players to run a high-stakes game at the Aria Resort & Casino Las Vegas; the list includes Phil "The Brat" Hellmuth, 15 times WSOP champion, Jason Koon, multiple times Triton Poker Super High Roller Series winner, among other top pros. The total list is the following one:
Phil Hellmuth
Bob Bright
Rick Salomon
Jean-Robert Bellande
Andrew Robl
Randall Emmet
Sam Trickett
Jason Koon
Dylan Gang
Rick Thompson
Evan Sofer
Chamath Palihapitiya
Sean Perry
Blocked player scandal before Rob's Home Game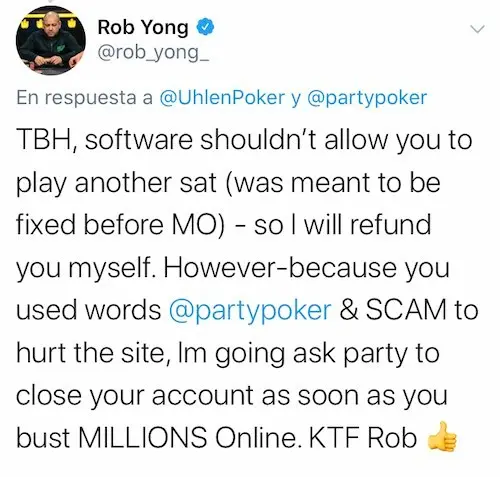 Before Rob's Home Game, Yong was immersed in a dispute when he flew to this event in the USA. A Unibet ambassador, Espen Uhlen Jørstad, complained about winning two MILLIONS Online tickets via satellites for the same day and losing his money because it wasn't possible to use both tickets. Yong's first reaction was to recognize the software bug, refund the affected player from his pocket, and to ban him from the poker room for using the words "scam" and "partypoker" in the same sentence. Yong also blocked Uhlen from Twitter.
After Yong's friend, Joni Jouhkimainen, vouched from Uhlen, the situation was solved. Phil Nagy, the WPN CEO, jumped into the case and offered the affected player The Venom $6M tickets for free, but he was already qualified for day 2.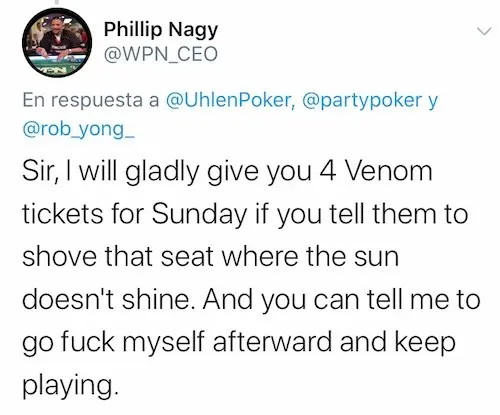 Exciting high stakes hands
Rob's Home Game is being streamed on direct via PokerGO, and a few exciting hands have been made public:
Sam Trickett's pocket aces vs. Phil Hellmuth crazy all-in
Trickett raised preflop with AsAc, Hellmuth (QcTc), and Thompson (3h3d) called the bet. The board was 6sKdJs, and Sam made a c-bet; Thompson folded, and Hellmuth called with the straight draw. A 9 hit the turn giving Hellmuth the straight, and he decided to check/all-in from a $30k bet to $293k. Of course, Trickett noticed that something wasn't right for him and folded.
Run It Twice for Phil Hellmuth
Hellmuth raises preflop with KhKd; Rick Salomon answered with a 3bet and Hellmuth shoved; both players made a snap call, and Salomon flipped ThTc. It was agreed to run in twice on this $429k pot.
Board 1: AsJd5d4h8c
Board 2: 2hQc9cJs3h
Phil won both hands, but all viewers were cheering for the ten to see the Hellmuth reaction. Sadly, that didn't happen.
Rob Yong vs. Dylan Gang
Rob Yong shared a few exciting hands that involved him and Dylan Gang.
Yong had Yong 9s9d and Gang Ah4h, the board was 7d8h3c, and Yong bet $35k; Gang called. The turn brings a 5h giving Gang a flush draw and a backdoor straight draw. Yong checked, and Gang went all-in for $221k. After having a short talk, Yong folded the best hand.
Another incredible hand faced the KsKh from Gang against the AdJd from Yong. Gang made a 3-bet preflop, and Yong called. The board showed Ah2hKc, giving a set of kings for Gang and top pair for Yong. Rob checks, Dylan bet, and Yong cold-call. Gang bets again after Yong checks. The river was a Js, the worst card for Rob that checked again. Gang bet the pot ($135k), Yong snap-call, and his faith was already decided.
Salomon bluffs the way around
Rick Salomon played a few incredible hands too. With 9c6c (a usual weak hand) he made a preflop raise; Perry called with 7s8s and Palihapitiya made the same with AdJs. The board was KcTd5d, and everyone checked. The turn brought an Ah giving top pair to Chamath, but it was Salomon that led the action with a bet. The river was a 4c, and Palihapitiya had the best hand, but Rick raised to $75k the initial $15k bet from Chamath. After thinking for about 1 minute, Palihapitiya folded against Rick's bluff.
The good news is that Rob's Home Game isn't the only site when you can play high stakes games; many online poker rooms run nosebleed games around the clock, and our VIP players get access to the best offers. Reach our team to get a private deal for high rollers:
Stay tuned on our Telegram channel for more EV+ news.