partypoker: Diamond Club ELITE $200,000 rake race
partypoker: Diamond Club ELITE $200,000 rake race
February 1, 2020, marks exactly one year since partypoker released a new VIP level to its loyalty program: Diamond Club ELITE, similar to the PokerStars Supernova Elite. To celebrate this event, the poker site will host a rake race for its super grinders.
Diamond Club ELITE Rake Race
Last year partypoker decided to encourage top-level grinders by adding a new VIP level that allows their players to receive 60% rakeback and other benefits.
The Russian player "sp0ubledy" became the first partypoker Diamond Club ELITE member, exactly 58 days after the launch of the promotion, followed by the Finn "I_AGAINST_ALL." Players must hit $200,000 in rake to get access to the Diamond Club ELITE.
The upcoming ELITE Rake Race will be divided into two (one for Spin & Go players and other cash games players), each with $100,000 in prizes. The first three players to obtain to the Diamond Club ELITE in 2020 will receive additional prizes as follows:
$50,000;
$30,000;
$20,000.
As a result, the TOP6 grinders will receive a remarkable increase in the already very high rakeback. The Diamond Club ELITE Rake Race should revive the game in high stakes spins ($100, $250 buy-in), fast-fold poker from NL200 and even more high stakes action at regular 6-max tables.
And for the mere mortals, the site has announced some exciting news.
Is Rob Yong preparing new measures to fight bots?
Rob Yong has shared three Twitter polls related to how the poker site should fight against dishonest players. The most interesting of them is related to a facial recognition system by partypoker.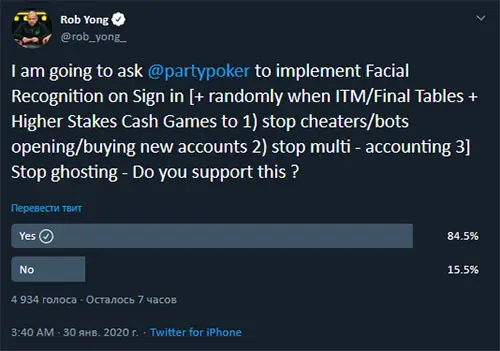 "I am going to ask partypoker to implement Facial Recognition on Sign in [+ randomly when ITM/Final Tables + Higher Stakes Cash Games to 1) stop cheaters/bots opening/buying new accounts 2) stop multi - accounting 3] Stop ghosting - Do you support this ?"
84,6% of the over 5,390 voters support this idea.
The two other tweets also proposed measures to fight against scammers:
"What's a better 6-max cash game? [better = play more hands, more fun/action, less bots / chart friendly]"

$1–$2
$1-$1 + $0.16 ante ($1/6)
Here the votes were almost the same for both options. Although games with a non-standard blind structure and ante are already available in the partypoker lobby, those are not very popular.
"Just had interesting training session on GTO, PioSolver & MonkerSolver.Apart from detection of in game use, what do you think sites should focus most on to make life more painful for players using Bots, Charts or Solvers?"

Deeper Stacks
Less Decision Time
More Multi-Way Pots
New Poker Games
43,7% of the votes (1,317) said that "Less Decision Time" was crucial to fight bots. Recall that partypoker has already reduced the time bank for cash games in 2019.
Of course, running Twitter polls doesn't mean that the partypoker team will immediately implement these changes, but that they point to where the poker room will be focused in 2020.
Our p players receive:
VIP rakeback deal;
Professional support seven days a week;
Free layout for multitabling.
Please contact our manager Timofey to start playing at partypoker: