Scoop Hold'em: new poker variant from Upoker
Scoop Hold'em: new poker variant from Upoker
The first poker room to continue the baton of new poker variants in 2022 was Upoker mobile platform. The Scoop Hold'em tables had appeared within the app under the "SCH" tab. The new game is a hybrid of Hold 'em and Open-face Chinese poker.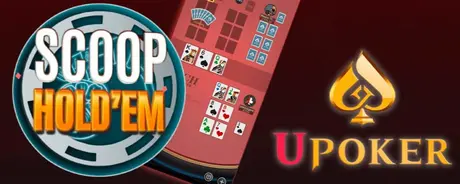 Scoop Hold'em Rules
Usually, new poker variants are created by slightly changing the existing ones or trying to "mix" them somehow. Upoker decided to take the latter route and recently rolled out their own "hybrid":
After the update on March 3, 2022, the "SCH" tab for Scoop Hold'em tables had appeared within the Upoker app.
The new game has the following features:
4-max tables.
The distribution of winnings is the same as in OFC. Players do not make any bets. The maximum allowed buy-in: 100 blinds.
All players are dealt 7 cards; six must be placed in three identical boxes.
Players have to place their cards in the boxes after the flop is dealt, then the turn and river cards are dealt.
Unlike OFC, the hands in "higher" boxes do not have to be weaker than those in lower ones.
Players can get from 1 to 30 points at each box for obtaining classic poker hands (from top pair to royal flush). Then the multipliers are applied depending on the boxes where the player has better hands than the opponents: x5 - top box, x3 - middle, x1 - lower. If the player manages to make the best hands at all three boxes, the "Scoop" is triggered, and he gets 30 extra points.
New game perspectives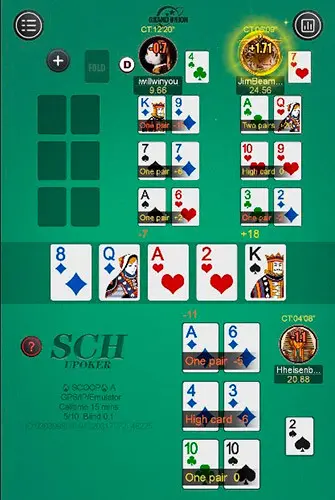 This game's speed is much higher than OFC or NLH, so Scoop Hold'em is unlikely to become a good game for multi-tabling. 
Since the possibility of any "mind games" is excluded, it turns into a "just make a hand" poker variant. The non-equivalence of the boxes implies the need to place made hands and strong draws in the top one and then act depending on common sense. 
The variance is very high because it is not impossible to fold. On the other hand, there are no bluffs here, so the players only need to know poker hands and count outs correctly. 
Scoop Hold'em can be classified as a casual format considering the mentioned features. The main benefit for regs is that local casual players are offered a possibility to take a break from usual poker tables by getting a new gaming experience without leaving the app.
Advantages of our affiliate service:
Bankroll guarantee.
Assistance in choosing a club with the best field
Transferring chips from club to club.
Support for players seven days a week.
Upoker HUD discount
Up to 35% rakeback, depending on the club.
You can contact our manager for an exclusive deal at Upoker