Upoker: Double Board and other novelties
Upoker: Double Board and other novelties
Author
Vargoso
Published
10/2/2021
Updated
12/8/2022
The Upoker poker room has stepped over its second anniversary and expanded the range of games by adding Double Board, Bomb Pot, and Mixed tables to the lobby. The number of table customization options has also increased. We will tell you about these and other new additions in this article.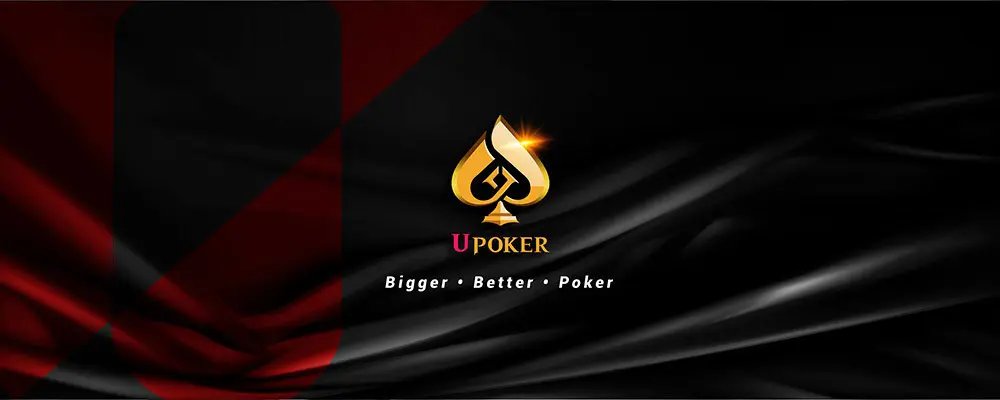 New game formats
The most known poker apps, like PPPoker and PokerBros, have chosen the development strategy of the classic poker rooms. They regularly update the range of available games to attract new and retain old players. Although Upoker has been online for only two years, it has also decided to join this competition after the launch of its desktop client. 
The last novelty at this poker room was 6+ Omaha. During August-September, the application developers added the ability to create more new tables:
Double Board – tables with double boards played according to the NLH and PLO rules. They appeared at Upoker just a couple of months after their launch at PokerBros. You can find more details about the rules of this game here. 
Bomb Pot – a similar feature with the same name launched at the WPN poker rooms over a year ago. It can be randomly activated at the start of any single hand: all players would be forced to pay an extra 3BB ante preflop, and the action would only start after the flop is dealt.
Mixed Games – another format which, like Double Board, originates from live cash games. At Upoker, it is realized by merging Hold 'em and one of three Omaha variants. The change of games takes place either automatically or at the choice of the player on the button.
Swap – a Hold 'em variant borrowed from PokerStars, where players can swap one of their hole cards. But unlike 3-1 Hold 'em and Pineapple, a player may swap even both hole cards on any street.
None of these formats is fundamentally new. Still, they bring a noticeable variety to the standard Hold'em-Omaha combination (and ShortDeck-OFC in some poker apps).
All of the recent new games at Upoker provide an increased level of activity at the tables, which should interest casual players.
New table settings and poker clubs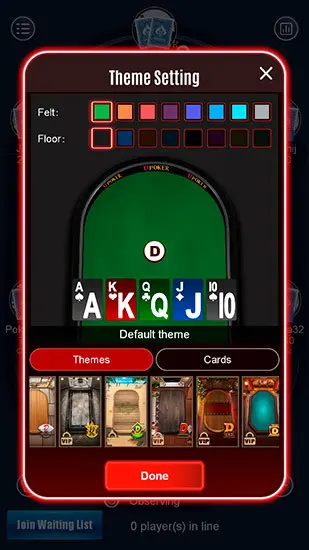 A wide variety of poker variants allow casual players to get a perfect poker experience within one app. In addition, the Upoker developers decided to complement the pleasant impression with the different table layouts.
Now, in addition to the default table and deck, there are 7 more themes, 9 decks, 8 tables, and background colors, which give a total of 64 possible combinations.
And for regulars, we continue to expand our selection of clubs, which provide access to the Grand-tables pool (available for all players) and their own private pools.
[email protected] Club (USA Plays Here union)

US players.
Traffic peak hours: 20:00-02:00 (GMT).
There are few tables, but the opponents are weak. NLH/PLO $40-$2K.
It is possible to start tables on demand.
All new players receive a free Gold card. It allows you to increase the time bank and get access to the opponents' statistics.
BUSTING ACES, an independent club

Players from Thailand.
Traffic peak hours: 15:00-19:00 (GMT).
Perfect fit for PLO/NLH mid-stakes.
Advantages of our affiliate service:
Bankroll guarantee.
Assistance in choosing a club with the best field
Transferring chips from club to club.
Support for players seven days a week.
Upoker HUD discount
Up to 35% rakeback, depending on the club.
You can contact our manager for an exclusive deal at Upoker
Telegram: @David_wpd
Skype: Contact
WhatsApp: Contact
Email: [email protected]
You can find all poker news in various rooms, as well as closed reservations on private conditions, in our Telegram channel. Sign up to keep an eye out for EV.
Review
Private clubs, rake stats, free hand histories, secret offers and more
Gambling industry news and insides, ratings of best poker rooms, bonuses, races and rakeback. The most undiscovered and fishy rooms of internet. Consulting and players' support. Working since 2013.
2013–2023. All rights reserved