SnapCam — Share a video reaction on GGNetwork
SnapCam — Share a video reaction on GGNetwork
Author
Vargoso
Published
8/7/2020
Updated
3/3/2022
The GGNetwork client is rich in features that are not available in any other poker room. This has been one of the secrets behind its success. Today, August 7, 2020, the SnapCam feature was introduced to record short videos and share them with opponents at the tables.

What is ScapCam?
SnapCam was scheduled to launch on July 16, but at the last minute, the update didn't include that feature. Then, we assumed it would be postponed until the end of WSOP Online to avoid technical issues with the client.
However, on August 7, 2020, when the series still has a month left, SnapCam was added to all rooms on GGNetwork.
SnapCam is a new feature that allows players to stream a short video to their rivals at the tables.
This is breaking new ground in the online poker industry, as all previous attempts to use video at the poker tables were usually limited to being able to play with the webcam always on.
How do I stream a video on GGPoker?
To use SnapCam, you must: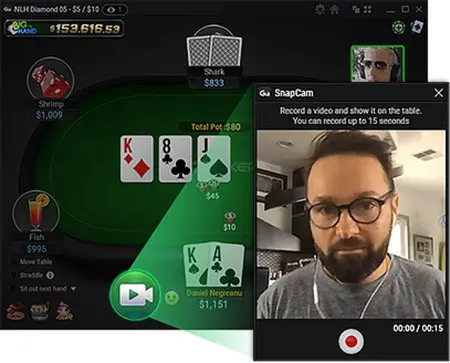 Click on the camera icon (besides the chatbox);
Click the record button in the pop-up window.
You can check the video before you send it. After this, all opponents will see your reactions in the last hand with that incredible bad beat.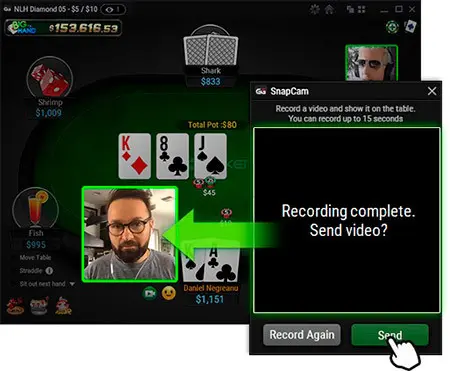 Terms of use
So far, SnapCam is only available in the Windows PC client, although the site promises to launch support for all other devices soon.
There are several restrictions on the use of SnapCam:
Video length — no more than 15 seconds;
A player will be able to record up to simultaneous 4 videos at the same table. All subsequent requests will be queued;
The sound must be on;
Any offensive content is prohibited; this can lead to having this option restricted.
You can also restrict which videos you'd like to see by logging into any player's profile (clicking on the Smart HUD icon). In tournaments, you can simply activate "Helmet Mode" (mute button in the chat), and you will not see any video at the table.
Why did GGNetwork launch SnapCam?
The whole point of features like SnapCam is to make games more friendly for casual players. This one sums up to many other options that enhance the experience at the tables, and poker fans most likely will be delighted with this new product, which will have a positive impact on traffic indicators.
For regulars, SnapCam will be another unnecessary button on the table. For those multitabling, it's much more important how the introduction of this feature will affect the performance and stability of the client.
Advantages of our affiliate service at GGPoker:
Private promotions and tournament tickets on our Telegram channel;
Professional support on all issues seven days a week.
Contact us to get a deal and start playing now:
Telegram: @alexey_wpd
Skype: live:newbheartstoned
WhatsApp: +66658566798
Email: [email protected]
Stay tuned on our Telegram channel for more EV+ news
Review
Private clubs, rake stats, free hand histories, secret offers and more
Gambling industry news and insides, ratings of best poker rooms, bonuses, races and rakeback. The most undiscovered and fishy rooms of internet. Consulting and players' support. Working since 2013.
2013–2023. All rights reserved