Red Dragon Poker Review
Independent
| | |
| --- | --- |
| Bonus | Not available |
| Rakeback | Not available |
Woo - hoo! Players from United States are accepted!
Characteristics

| | |
| --- | --- |
| Room type | Agent |
| Payments | |
| Platforms | |
Key facts
Backed by PokerStars
Direct cashier without an agent
Deposit and withdrawals in USDT
HUDs supported
Application available in English
Stable mobile client
Our ratings

| | |
| --- | --- |
| Reliability | 3.0 |
| Bonuses and promotions | 3.0 |
| Game selection | 3.0 |
| Casual players | 3.0 |
| Convenience of the software | 3.0 |
| Deposits and withdrawals | 3.0 |
Red Dragon Poker Review
Author
Rodion Longa
Updated
5/1/2023
Red Dragon Poker is a state-of-the-art Chinese poker room, the creation and development of which is backed by the Asian branch of PokerStars. The app was released in early 2019 and, thanks to the flawless operation of the software and the reputation of PokerStars, quickly gained popularity both in China and abroad.
Unlike most club apps, Red Dragon has a common playing field. All available tables are visible in the lobby. Players can register their own accounts using a phone number, and access is officially allowed for citizens of any country.
Money transfers are processed without agents using Yuan and cryptocurrencies.
Rake and rakeback
RDP does not offer any bonuses, except for jackpots at medium and high stakes. The main advantage of the room is the option to safely play against Chinese amateurs.
The rake is collected traditionally for Asian poker rooms: after the end of the game at each table, only winning players pay a 5% fee.
Games and traffic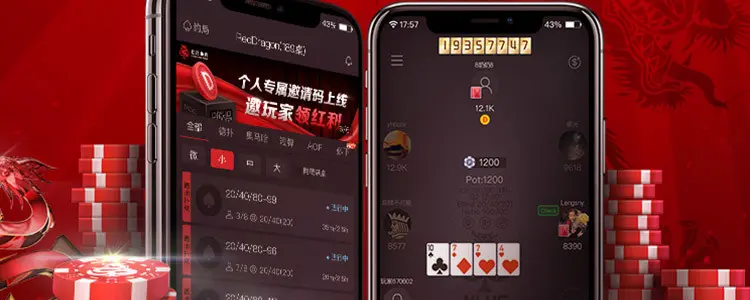 Average online 300-500
Best time to play Start of the evening in Europe
Cash tables are played in four types of poker: NLH, Omaha, 6+, and All-in or Fold. The peak of traffic is late in the evening, Chinese time (in Europe, the start of evening).
Playing at Red Dragon Poker has several differences from regular poker rooms:
Each table is created for a predefined time.
The game is played with a "local" currency - RDC (Red Dragon Coin), which is somehow attached to Chinese yuan at the rate of 16.66 RDC = 1 CNY.
The ratio function allows you to change the displayed stack size.
The most popular format is 8-max Hold'em
Games are played with ante (1SB) and straddle (2BB).
There are eight stakes available at RedDragon Poker: from 2/4 to 400/800 (1,600), which roughly corresponds to NL3.6 $ - NL1.43K $.
In Omaha, the most popular stakes are 10/20 (40) -100/200 (400). About 10-12 tables can be spotted in the evening.
Game softness
Traditionally, Chinese poker rooms are the softest in terms of their playing field, and RDP is no exception. The database of players on the platform are Chinese citizens.
A big boost in traffic occurred in the room after the closure of PokerStars China in 2020. Most of the players switched to RedDragonPoker.
Attitude towards professional players
Tracking software – yes.
Seating scripts – no.
Mining – no.
Bumhunt – yes.
Pre-flop charts – no.
A considerable advantage of the room is that it accepts players from all over the world, which underlines their loyal position about regulars.
Red Dragon Poker software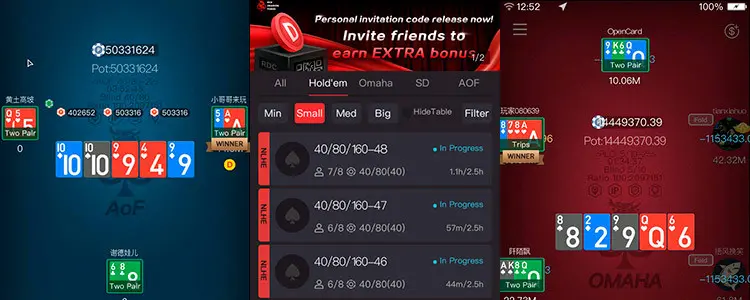 The Red Dragon Poker app was developed with the support of PokerStars, so it can be safely called the best on the market.
English language support.
One account — one table.
On a desktop PC, the client of the room works through an emulator. 
Stacks can be converted to any denomination.
The overall design is simple and intuitive. In the main lobby, under the table list, there are tabs giving access to settings, other cash games, your profile, and other sections of the client. You can also customize the appearance and bet sizing.
Red Dragon Poker room does not prohibit the use of poker trackers: the application itself has built-in statistics. To import statistics into the trackers and use its HUD at tables, you can choose one of the hand converters.
Reliability and trustworthiness
Launched — 2017.
Identity verification — necessary.
License — no.
KYC Verification —  necessary.
WPD guaranteed — yes.
Red Dragon Poker is a Chinese mobile room, and since gambling is prohibited in China, licenses for such rooms are not provided.
Although the lack of a license is not a positive factor in our assessment, we note that many large rooms, for example, Bodog, have been working without it for years, while providing services at a high level.
ITech Labs verified the RNG (Random Number Generator) of the room.
The banning of players for winning has happened in the past, but in 2020 owners changed their policy and are not aware of such cases since then.
RedDragon Poker has a security service that monitors compliance with the rules and identifies collusion and the use of bots.
An important factor of trust is that RD managers are constantly in touch with our team and are sensitive to player feedback.
Deposits and withdrawals
Withdrawals and deposits on Red Dragon Poker are available in USDT coin. Its price depends on the dollar exchange rate. The difference between the RDC buying and selling rates is approximately 6.5%.
All transactions are done on the cashier's website. You can enter it via an application from the "Wallet" section. Yuan is selected by default. The minimum transfer size is 5,000 RDC, the maximum is 1,000,000 RDC.
To get advice on deposits and cashouts at RedDragon Poker, contact our team. We are online seven days a week!
The Red Dragon Poker app was developed with PokerStars' support, so it can be considered one of the best on the market. It's are available in English.
Given the fact that the Red Dragon Poker app is developed for mobile devices (Android and iOS), you can only play on a desktop PC via an Android emulator. It also allows playing in multiple tables at the same time.
Trackers are allowed at Red Dragon Poker, and the app has built-in statistics.
Pros and cons of playing at Red Dragon Poker
We highlight the following features of RDP:
Chinese poker of a new generation.
Managed by the PokerStars team.
Chinese casuals make up most of the traffic.
Deposits and withdrawals with cryptocurrency without an agent.
HUD.
Soft field.
The dark side of the room:
No PC client.
Only one payment method.
No MTTs.
Red Dragon Poker is a poker room that is not suitable for all players, which is reflected in our final assessment. It will be of little interest to an amateur because of the unusual software, the complexity of transactions in cryptocurrency, and the monotony of the games offered.
At the same time, for a regular looking for a fishy cash game at mid-stakes NLH and familiar with the specifics of grinding in China, RedDragon is a must-have addition to the multi-room portfolio.
Advantages of our affiliate service
Access to play through our private club.
Help with setting up everything for the game.
Support 24/7 for any questions.
Worldpokerdeals has many years of experience in the professional affiliate services market for players from all over the world. Our managers will provide you with the best service and deals in any poker room.
Do you still have additional questions regarding RedDragonPoker? Contact us. We are online seven days a week.
Review
Private clubs, rake stats, free hand histories, secret offers and more
Gambling industry news and insides, ratings of best poker rooms, bonuses, races and rakeback. The most undiscovered and fishy rooms of internet. Consulting and players' support. Working since 2013.
2013–2023. All rights reserved