Best online poker rooms for grinders in 2019: affiliate opinion
Best online poker rooms for grinders in 2019: affiliate opinion
Online poker grinders are one of the most vivid expressions of all the possibilities that arose with the new century and internet expansion. But, being a full-time poker professional in the era of the "amateur player support" by poker rooms can be challenging. Today we will highlight the online poker rooms more suitable for true grinding in 2019.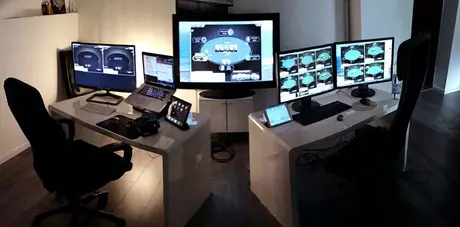 What does a grinder need from a poker room?
First of all, we need to know what distinguishes grinders from standard poker players. The key is to play poker as the main job, but a grinder also:
plays a lot on a regular base;
plays a lot at the same stake, which is usually not his stake according to his skills.
We can say that grinders play at lower stakes than they should (usually, no higher than NL100-NL200 in traditional poker rooms) in order to minimize the risks, and they focus on the long-term profits.
Due to this, grinders are known also as "rake machines", as some of them play looking only for rakeback and being break-even at the tables. This is not entirely true, there is no correlation between rakeback (which is indeed crucial for a grinder) and the profits at the tables. 
Considering this, the best online poker rooms for grinders must check the following aspects:
Good and stable traffic during the labor hours of the grinder;
High and transparent rakeback;
HUD support, which makes easier to multi-table;
Nowadays, grinders are being challenged to reduce their requirements in one of two points. But today we will share traditional poker rooms that satisfy all three features already exposed above.
partypoker
partypoker can be called the best option for poker grinders, even more considering the last slash to rakeback made by PokerStars. In fact, for grinders partypoker is now a reflection of what PokerStars was 5-7 years ago, with traffic adjusted of course.
The number of tables at low and medium stakes (NL10 up to NL200) is enough for grinding for 5-6 hours daily; fast poker lovers can also find enough action at partypoker: four stakes are available (NL10 up to NL100).
And last but not least, partypoker is also a great poker room for playing Omaha; during the peak time, there are 10-15 tables per stake up to PLO200:
| Stakes / Discipline | No Limit Hold'em | Fast Poker [Only Texas Hold'em] | Omaha (PLO) |
| --- | --- | --- | --- |
| NL10 — PLO10 | 30-40 tables | 100-140 connections | 10-15 tables |
| NL25 — PLO25 | 20-30 tables | 80-120 connections | 10-15 tables |
| NL50 — PLO50 | 15-20 tables | 40-70 connections | 8-12 tables |
| NL100 — PLO100 | 10-15 tables | 60-80 connections | 7-10 tables |
| NL200 — PLO 200 | 8-13 tables |   | 13-18 tables |
The rakeback deal at partypoker goes from 20% up to 60% for true grinders. Our players will receive an exclusive deal, the details can be confirmed with our manager Timofey.
About HUD support, at fast poker tables the HUD works as usual, but for regular tables, the statistics are only gathered during the current session, which makes the games more complicated until enough data is available from the opponents.
Betfair Poker
A few years ago, the iPoker network was considered the home of "rake machines", but after the introduction of an indirect rake structure and the ban of some particular countries, the traffic decreased significantly.
Now its flagship room, Betfair Poker, has enough traffic for grinding at low and medium stakes:
| Stake | No Limit Hold'em | Fast Poker |
| --- | --- | --- |
| NL10 | 15-25 tables |   |
| NL25 | 8-15 tables | 50-80 connections |
| NL50  | 8-15 tables |   |
| NL100 | 5-10 tables |   |
| NL200 | 3-8 tables |   |
Unlike partypoker, on Betfair Poker, all our players receive a fixed rakeback of 35% (of the gross rake, not SBR); the deal also includes rake races like this:
Monthly rake race with a prize pool of €20,000 distributed among TOP-200 players.
15-day rake race with €5,000 GTD in prizes for the TOP-50 players.
Betfair Poker has full HUD support without restrictions. More details about our Betfair Poker deal can be confirmed with our manager Antonio.
PokerKing
PokerKing is the flagship room of the Winning Poker Network (WPN), and it's the best choice for grinders looking for action during the American prime time. Over 10 tables can be found at each stake from NL50 to NL200, and up to 20 tables in NL25—NL50.
The rewards program is not only presented as rakeback (which goes from 10% up to 40%) but also as weekly rake races (Kings Treasures); all promotions are available from NL25.
If the action isn't enough playing only at PokerKing during the American peak of time, you can add more tables playing at Tigergaming (Chico). Also, both sites are now one of the few rooms with 9-max traffic. Get our exclusive rakeback deals for PokerKing and Tigergaming with Timofey.
Chinese poker rooms
Chinese poker rooms are the last novelty of modern online poker. Grinding at them is different compared to a regular poker room:
First of all, Asian sites have action at higher stakes with very weak lineups, which means an opportunity to play at the stake accordingly to the skill;
Multi-tabling is usually limited to 4-5 tables;
With the Chinese poker rooms, grinders now have the option to play almost at any time;
Grinders can safely play at Chinese poker rooms with the Worldpokerdeals money guarantee.
The rake structure is cheaper.
Worldpokerdeals has the largest Chinese room portfolio available online, including rooms with rakeback and HUD support. Grinding in Asian poker apps could even be more profitable for grinders nowadays.
Conclusion
Grinding must adapt to industry changes. Professional players must consider all options available to make adequate room selection.
For classic grinders, the best rooms today are partypoker, Betfair Poker, and PokerKing.
For those who want to test the waters of the Chinese boom, PPPoker, PokerMaster, Red Dragon Poker, PokerKing Asia among others are the best options.
Feel free to reach our team to get the best deals on the market for true grinders.
Stay tuned on our Telegram channel for more EV+ news.