All-in or Fold (AoF) on Winning Poker Network
All-in or Fold (AoF) on Winning Poker Network
On April 28, 2022, WPN rolled out an update, the main feature of which was the launch of a new for this network poker variant - All-in or Fold (AoF). We will tell you about all its features in this article.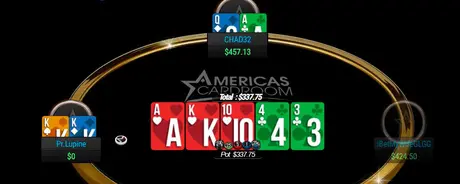 Yesterday, the monthly software update on the US-friendly Winning Poker Network (WPN) was delayed. While the responsible gambling settings changes took place at the scheduled time, the main novelty appeared in the lobby only at night.
From April 28, 2022, it's possible to play All-in or Fold on Winning Poker Network (PokerKing, Americas Cardroom, y Black Chip Poker).
Like other poker rooms (GGPoker and PPPoker), the WPN version of All-in or Fold is a 4-max push-fold poker variation that gives players only two preflop options: all-in or fold. 
Stakes
The initial buy-in at several stakes on WPN is different from the default one for this format:
At seven NLH stakes ranging from NL25$ to NL2K$, the initial buy-in amount equals 8BB.
At NL10$ and NL10K$ stakes – 10BB.
At all seven Omaha stakes (PLO20$ - PLO20K$) – 5BB.
Apparently, the differences in the initial buy-in amount will significantly affect the strategy of the game. This version of PLO obviously becomes a pure gambling format.
Poker room websites also mention Omaha H/L AoF cash games and tournaments, but they are nowhere to be found yet. Also, there's no separate tab for currently available AoF tables. They can be found either by looking for the "A"-mark or setting the lobby filter to display only 4-max tables.
The traffic is currently very low: you can find up to 5-7 active Hold' em tables (usually one at each stake) and 1-2 Omaha tables.
Profit cash-out option

Another feature of All-in or Fold at PokerKing and other poker rooms on this network is an additional action button with a piggy bank icon. It allows the player to automatically cash-out the winnings from the table to continue playing with a lower stack of the chosen size.
The non-activated button is gray and becomes yellow when activated. According to our observations, not all players take advantage of it and continue playing with 20BB+ stacks.
Rake
We couldn't find any separate AoF rake descriptions on the network's poker rooms websites. Therefore, the rake is likely the same as for other cash game tables - 5% (capped at $3).
The rake generated at the tables of this format is counted for The Beast leaderboards.
Tracker support
Currently, the correct work of HUD on All-in or Fold tables is not guaranteed. Most likely, players will have to wait for the updates, which should support this format.
Of course, AoF tables can lure some casual players from regular cash game tables. On the other hand, they will have a new action-packed game within the same poker room. The impact of this format on WPN skins will only be seen in a few months.
Register a Winning Poker Network account using the Worldpokerdeals link to get an unique welcome bonus of up to $2,000 and enjoy the benefits of our affiliate service:
Private promotions and tournament tickets in our Telegram channel
Professional support for all inquiries seven days a week.
You can contact our manager for all the questions.