All-in or Fold (AoF) at GGPoker: comprehensive guide
All-in or Fold (AoF) at GGPoker: comprehensive guide
GGpoker All-in or Fold (summarized as AoF) is an action-packed poker format. You can only make two decisions before the flop (that is, only knowing your hole cards): push all your chips (All-in) or fold. It is played on 4-player tables, meaning many hands per hour, making it one of the most fun games ever developed.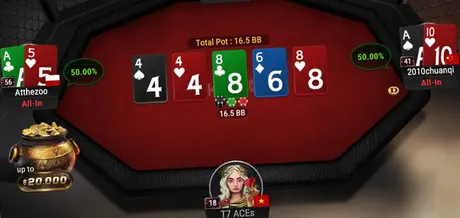 GGPoker has become the largest poker room in the world thanks to several strategies, which include satisfying the Asian market and offering fun games. All-in or Fold was born to fulfill these two objectives. The rules of AoF are straightforward: in the pre-flop, you fold the hand or bet all your chips. There is no postflop game.
At GGPoker, you can play Allin or Fold in Hold'em, Omaha, and Sit and Go.
This detailed guide will review the winning strategy at the tables, the rake and rakeback conditions, all promotions, etc.
GGPoker AoF rake
The rake structure in this game is different from the others. A fixed commission is taken from each hand:
| Stakes | Rake (BB) |
| --- | --- |
| NL10$ | 0,06 |
| PLO20$ | 0,03 |
| NL25$ | 0,04 |
| PLO40$ | 0,025 |
| NL50$ | 0,04 |
| PLO100$+ | 0,03 |
| NL100+ | 0,05 |
And although it is not considered rake, there is an additional fee of almost the same amount used to feed the jackpot prize pool.
Rakeback
All-in or Fold players participate in the GG Poker rakeback program: Fish Buffet. This can represent up to 60% rakeback. In addition, three additional promotions represent more profits for fans of this format. 
Two promotions are random (Jackpot and Bingo), while the others reward the volume (Fish Buffet and Race).
All-in race, daily leaderboard
A traditional race that rewards the players who spend the most time at the tables. For each hand that reaches the showdown, you will receive one point (1.5 times on happy hours from 22:00 to 23:59 UTC every day).
There is a separate race for each of the All in or Fold formats available: Hold'em, Omaha, and Sit & Go, and usually, the prize pool exceeds $20,000 daily.
AoF jackpot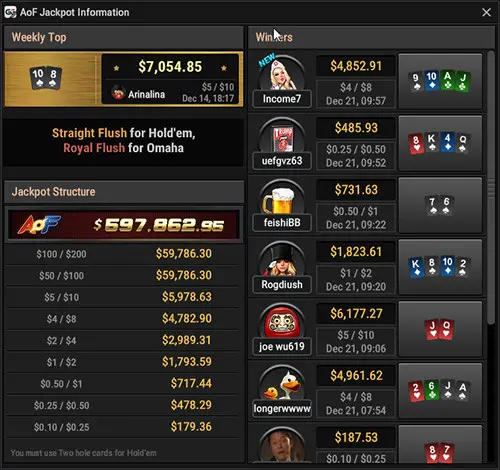 The Jackpot seeks to compensate a little for the game's high variance, in addition to being an automatic promotion in which all players participate. To win, you must have some luck:
Getting a straight flush using both private cards in Hold'em
Get a royal flush using two of your cards in Omaha
AoF jackpot payouts range from 0.01% of the pool to 10% for VIP games. A commission is taken from each hand played to feed the prize pool.
AoF Bingo
This promotion is an enjoyable mix of one of the most popular gambling games in the world (Bingo) with poker in AoF format. 
When you start playing, you receive a 4x4 card, and your private cards will be your bingo chips.
From the first game, you will have 50 (Hold'em) or 20 (Omaha) hands
To win a prize, you must complete lines with your hole cards when you win hands (they must reach the showdown)
Prizes range from 8 BB to 800 BB
All AoF Bingo results are saved in PokerCraft
Is there a HUD available for AoF games?
All external trackers (such as Hold'em Manager) are prohibited on the GGNetwork. Then, all players have access to the same statistics through Smart HUD. Under the nickname of all the players in AoF, you can find the following statistics, which can be summarized as their tendency to go all-in:
VPIP
% All-in
% fold
ATS
TLC
Distribution of hands in the showdown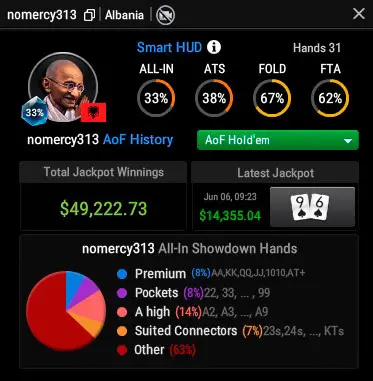 You can also take notes from your opponents and check if your opponent has won money on the jackpot.
Is All-in or the Fold profitable at GGPoker?
First, we should mention that the push or fold at GGpoker is a high-variance game. Traditional charts will not give good results here because they do not consider the peculiarities of these tables.
In general, we can't say if AoF is a profitable game; what we can say is that it is one of the most popular formats of GGPoker, with 24/7 traffic and many promotions that increase the rakeback, so those who develop a good strategy should be able to make profits in the long run.
We highlight that we have seen several high rollers and professionals playing this format, so we consider that some of them should consider it profitable in the long term... or maybe they play it just for fun!
All-in or Fold strategy for beginners
GG Poker AoF is an ideal game for beginners thanks to several aspects:
There are only two possible decisions: go all-in or fold. The postflop game does not exist.
The buy-ins are low, and the errors are not very expensive, simplifying the decisions.
The tables are short, so the action is non-stop.
In most cases, designing a decision tree-type strategy (based on your position and cards, i.e., an AoF chart) will be enough to familiarize yourself with the tables and avoid most mistakes.
It is also advisable to use the function of withdrawing winnings after chaining a series of won hands.
Since the variance is so high, it is not advisable to risk more chips unnecessarily.
Another tip is not to follow the Bingo because you could play with mediocre hands just by completing some lines on the table.
In general, stick to a simple game, avoid complex strategies, and you will be able to survive the tables.
Conclusion
If you are looking for a fun game full of action, with many promotions and high variance, the AoF version of GGPoker is just what you are looking for. You will receive a high rakeback thanks to the Jackpot, the leaderboard, and Bingo, among other promotions, and you will be able to develop a strategy that will help you go all-in with only the best hands.
The traffic is 24/7 in almost all stakes and formats, so you can multitable in your time zone.
For any questions about any skin of GG Poker Network, please contact our team:
FAQ
✅ Are there any All-in or Fold tournaments at GGPoker?
✅ How to play all-in or fold?
✅ What is all-in or fold in online poker?