Fedor Kruse accused of using Real-Time Assistance
Fedor Kruse accused of using Real-Time Assistance
A new poker scandal has been unveiled on the 2+2 forums: the German player Fedor "GlitchSystem" Kruse has been accused by its roommates of using real-time solver assistance with a so-called "dream machine." In this article, we will share all the details.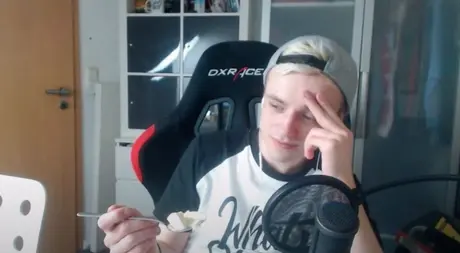 Fedor GlitchSystem Kruse: Evidence on real-time assistance case
A new user, "QuiaOnmisIustitia" (he joined only to share the story), created a thread with evidence of a new poker scandal that involves the German pro player Fedor Kruse, who plays under the nickname "GlitchSystem" at PokerStars.
Kruse was sharing a flat in Viena with two other players, Niklas and Manuel. The post says that Fedor is an MTT reg and occasionally played cash games up to NL200, where he was a breakeven player.
Suddenly, Kruse switched to cash games and quickly climbed to the highest stakes available (NL40k on GGNetwork and NL10k at PokerStars), and he also changed his habits; for example, he began to lock his room while grinding.
His roommates decided to confront him, and he confessed that he was using a real-time solver, a dream machine in his words. After this, he was kicked out from the flat, and his colleagues shared all relevant information to PokerStars Integrity Team and GGNetwork.
The post says that PokerStars didn't block the GlitchSystem account, and at the same time, another group of German poker players identified Kruse as a cheater, mainly due to its meteoric rise to high stakes after being only a breakeven player.
Screenshots and WhatsApp chats are also included where Fedor confesses he is using a solver, and more details are revealed like a high stakes staking program that involves his roommates and Henri Bühler. 
After being confronted, Kruse stopped playing for a while, and he told his friends that he wouldn't use the dream machine anymore, and he will return to MTTs, but apparently, this was a lie as he quickly returned to NL1k/NL2k cash games.
Dream Machine: the real-time solver used by Fedor Kruse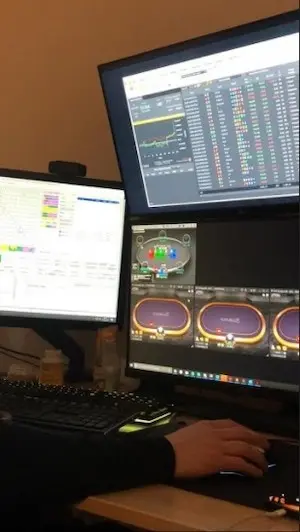 The thread also describes the dream machine used by Kruse, which is nothing but another computer with a folder structure that contains all possible cash game spots solved, so he can just check what to do in another monitor when he wants and play a nearly-perfect GTO game.
The setup is very simple which makes harded to detect it, and the thread includes a picture took by his roommates: two computers side by side with several monitors, one to grind, and other one with solved hands and other software to play GTO.
Reactions of the poker community
Patrick Leonard (partypoker ambassador) admitted that the evidence was strong, although Kruse is willing to cooperate, and he calls to choose poker sites based on security measures. Let's recall that PokerStars is one of the sites involved in the situation.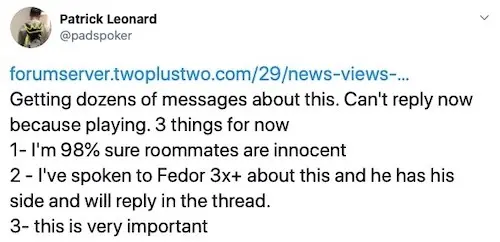 Fedor defends himself, saying that his roommates had action in his high stakes games, and his Twitter account @iLoveCookiiezz is protected right now.

The general consense on the 2+2 thread is that real-time solvers cases are very common now and that online poker sites are not making enough efforts to control the situation, and propose to implement lower timebanks and a dynamic structure of blinds and antes.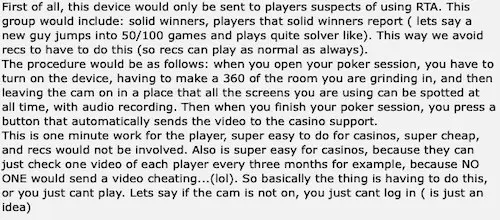 Recently the grinder Tuti88 started a thread (before the Kruse scandal) to share ideas on how to avoid cheaters using RTA:
The dream machine setup is almost impossible to detect as it only needs two computers;
The mouse movement and the time response is crucial as the scammer needs to check the second screen with the solved hands;
Tuti88 proposes sites to develop a device with a wifi cam and send to suspicious players, a group that will include new guys, solid winners, and reports. So, when you start playing, turn on the device, and make a 360 degrees recording of your setup, and leave the cam in place with audio recording to record your session;
5 seconds timebank;
Ask new players from a gaming background and proof of competence.
Unfortunately for the high roller community, scammers will always be around. Unveiling these scandals are useful to all players as cheaters are outed, and their methods are exposed.
Advantages of our affiliate service:
Top rakeback deals;
Help with all your questions seven days a week.
Reach our team to find out more details:
Telegram: @alexey_wpd
Skype: live:newbheartstoned
WhatsApp: +66658566798
Email: [email protected]
Stay tuned on our Telegram channel for more EV+ news