MTTs are the new black at PokerBros
MTTs are the new black at PokerBros
PokerBros was known only for hosting soft ring games in the early days, backed with massive participation in US players. But now, several years after its launch and massification, many clubs have expanded their portfolio, and now the MTT grid has nothing to envy to a standard poker room.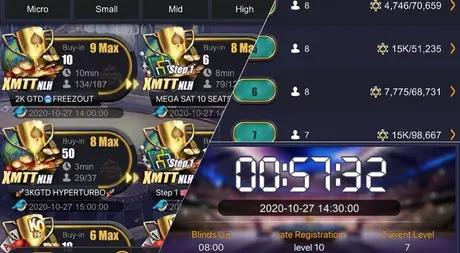 Disclaimer 1: PokerBros is an online social gaming platform and does not provide any real-money service.
Disclaimer 2: PokerBros is not a sponsor of or in any way involved with this promotional activity, nor does PokerBros endorse it.
PokerBros and MTTs
PokerBros has also invested resources to offer as many games as possible, and the portfolio includes Hold'em, Omaha, Spins, and, of course, MTTs.
MTTs (multi-table tournaments) are responsible for the online poker boom that started many years ago because one lucky hunch can turn a small investment into many chips. And, of course, MTT grinders like Daniel Negreanu are recognized players globally.
Therefore, it's no surprise that club administrators at PokerBros decided to add tournaments to its offer. Many players actively look for these games, and the club-based apps boom is driving significant traffic to those sites.
How to set up a PokerBros MTT
Setting up a PokerBros MTT is effortless. The club administrator just needs to login to his panel, and with a few clicks, he can set the format, buy-in, blind structure, etc.
The app has many features to choose from. After polishing the details, the MTT will be added to the lobby. Players will be able to register by paying the buy-in.
PokerBos MTT Schedule
Due to the PokerBros model (they offer a platform where independent people organize games), the MTT schedule depends on your agent or affiliate (and the safety of your chips).
Our unique PokerBros unions set gives access to the largest unions across America, Europa, and Asia. In this, you will find many tournaments to play around the clock:
Union
Date and Time
(UTC +0)
Buy-in
GTD

E***BR**

19/09/20 19:30

163,5

5450

E***BR**

20/09/20 20:30

109

5450

E***BR**

23/09/20 21:30

109

2725

E***BR**

29/09/20 21:30

218

8720

E***BR**

11/10/20 16:30

218

54500

L**a Ga***ti**

25/09/20 23:00

20,9

14440

L**a Ga***ti**

26/09/20 23:00

47,5

14250

*i**o**

15/09/20 18:00

18

18000

*i**o**

15/09/20 22:30

31,5

54000

*i**o**

16/09/20 1:00

36

13500

*i**o**

16/09/20 4:00

22,5

9000

Go******as

15/09/20 18:00

18

18000

Go******as

15/09/20 22:00

90

18000

Go******as

16/09/20 23:30

36

54000

Go******as

20/09/20 23:00

450

270000
What are the best PokerBros tournaments?
We have reviewed our PokerBros club set, checking for the best MTTs. Almost all the grid correspond to NLH events. Only a few PLO4/5/6 tournaments are included in the schedule with low guaranteed up to 25k.
For NLH, there are events for all tastes, from low-stakes grinders to high rollers with buy-ins up to 1,000 and guaranteed prize pools of 300,000.
All PokerBros MTT events have something in common: the lineups are incredibly soft thanks to the presence of casual players from the US.
Our players get:
Professional advice on choosing a club and installing software;
Free chips transfer between clubs;
Multilingual support seven days a week;
Chips fully guaranteed in case of any problem with the club;
Discount in HUD and hand converter;
Top deal.
Contact our team to get more details about our PokerBros deal: