PokerStars vs partypoker: where to roll?
PokerStars vs partypoker: where to roll?
PokerStars and partypoker have played a massive role in popularizing online poker. It's fair to say that today's game would probably have been very different without them. After 20 years, each room has taken different paths, and in this article, we will expose all their features and draw conclusions to help you choose.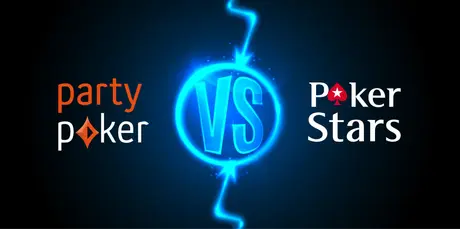 partypoker or PokerStars
Only a few rooms have claimed the throne of online poker. Two of them — PokerStars and partypoker. In 2006, after the adoption of the UIGEA act in the United States, party left the market and lost first place to PokerStars.
Over the years, the rooms have undergone many changes in software, traffic, and bonuses. Now both sites are at different poles of the TOP10 PokerScout rankings, and the benchmark presented in this article will help anyone looking for the best site to play poker.
PokerStars vs partypoker rake
| | Pokerstars | | partypoker | |
| --- | --- | --- | --- | --- |
| | Rake | Cap (5+) | Rake | Cap (4+) |
| NL2$ | 3.50% | $0.30 | 5% | $1 |
| NL5$ | 4.15% | $1 | 5% | $1 |
| NL10$ | 4.50% | $1.50 | 5% | $1 |
| NL25$ | 4.50% | $2 | 5% | $3 |
| NL50$ | 5% | $2 | 5% | $3 |
| NL100$ | 5% | $2.5 | 5% | $3 |
| NL200$ | 5% | $2.75 | 5% | $3 |
| NL500$ | 5% | $3 | 5% | $3 |
We've collected the rake structure of both rooms in the following table:
Poker Stars outperforms party poker at stakes up to NL25. At three stakes $0.25/$0.50 to $1/$2,) party has higher caps, and at NL200, the difference is minimal. At NL500, the rake is the same.
Partypoker is friendlier for spin players, but only in $10, $250, and $500 games when they charge 1% less. At all other stakes, the fees are the same.
Rakeback and bonuses
For newcomers, both sites offer similar welcome bonuses to choose from:
100% up to $600 locked bonus for those looking to grind and deposit higher amounts
Instant tickets. partypoker gives $10 or $30 depending on the deposit, while PokerStars gives $30 for any amount
Both sites draw in this area.
PS and party poker updated their loyalty programs in 2021-2022, offering a multi-tier rakeback system with the possibility of boosting it via random bonuses; however, there are also many nuances in each.
*The number of points depends on the poker format. $1 Spins gives 2.5 points at regular tables, 3, and fast-fold poker, 4. Hence, the total rakeback in each game is different with the same rake volumes.
It's also worth noting that some of the points scored in both VIP programs can "burn out" without any return since players get rakeback only at fixed levels.
As for random bonuses, they can theoretically boost RB of cash players to 50%, but the best ones rarely fall out and do mostly among amateurs.
On other promotions, partypoker clearly outperforms its competitor, as they offer regular events:
Daily leaderboards for spins players divided by stakes ($17.5k) and SnGs ($3.5k)
Double cashback points in fast-fold poker during 4-hour intervals per day
Diamond Club for Spin players giving 30%-60% fixed rakeback if you rake over $1,000
Software comparison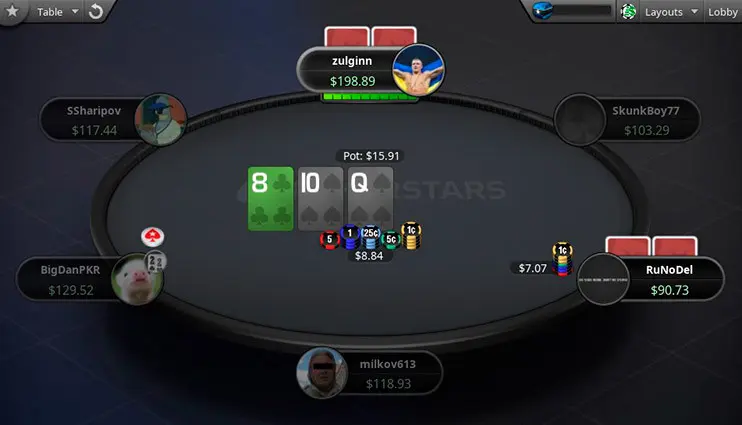 PokerStars platform was considered the best one. Its unique features are: Modern and sophisticated design; Stability and functionality; Advanced filters; Many customization options.
However, after the transition to the new Aurora engine, stability was lost, and although the new one has great potential, the developers still need to work hard to overcome the old platform.
In party poker, the situation is the opposite; the client is developed and supported by a third-party company, and it's based on a code crafted over 10 years ago. Nevertheless, this hasn't stopped the room from innovating or changing the table design.
Overall, the partypoker platform fulfills the needs of almost all players, although, of course, it's still far from the PokerStars application.
Third-party software
PS and partypoker are very different in this area, and mostly regulars notice it.
Unlike PokerStars, partypoker prohibits any third-party program from working in real-time and with hand histories (trackers, HUD).
The players of the room can only download anonymous hand history to upload it to HM3 to analyze their own game.
Both sites allow "Caption" software; as usual, any automatic tool or RTA is prohibited.
Mobile app
party poker has a slight advantage in this area, especially in the eyes of amateurs. The room launched a new client for gadgets in 2021, including cool graphics and a massive functionality update.
On the other hand, Poker Stars has only added portrait orientation to its mobile platform. So far, partypoker offers a better app.
Traffic overview
Although PokerStars is no longer the king of the hill, there's still a long way between them and almost all competitors. Partypoker is no exception. According to PokerScout, PP boasts up to 1,000 cash game connections daily, while Stars feature 7 times more.
However, such numbers say almost nothing to a player. It's more important to know about poker formats, stakes, peak times, etc. Therefore we will study this area further.
Game variety
In addition to the classic NLH and PLO, PokerStars offers the following games:
7 Card Stud
Five Card Draw
2-7 Triple and Single Draw
8-Game Mix
Razz
HORSE
Badugi
Of course, traffic here isn't massive, but partypoker is zero. As well as, for example, full-ring tables. 6-max NLH tables are played from NL2 to NL200, but, of course, PS features more action.
Fast-fold poker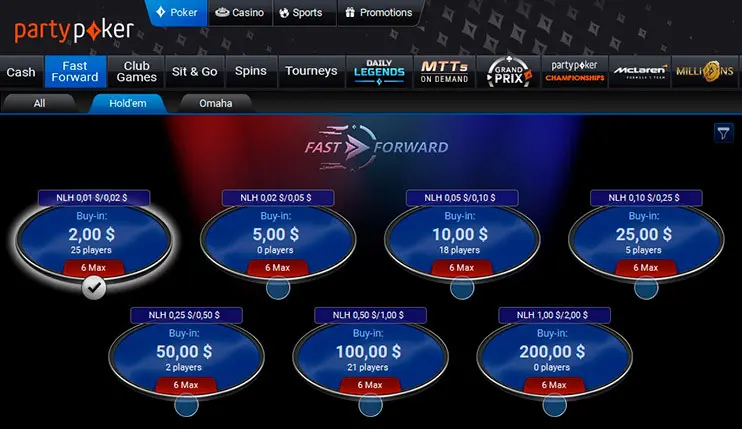 Although the loyalty system and promotions in partypoker are designed for Fastforward, the room is still inferior to Poker Stars in this format: more active stakes (8 vs. 4) and maximum stake playable (NL200 vs. NL100).
MTT Tournaments
Tournaments have always been one of the main features of PokerStars: a wide variety of events, massive guarantees, and its own live series with packages that can be won online.
All this is relevant, but even though partypoker is interior to MTT in "size," its grid has appealing features:
Small fields
The predominance of tournaments with only 1 re-entry
Series of multi-day events with massive prize pools compared to regular MTTs
Hybrid tournaments (starting online and ending live
Spins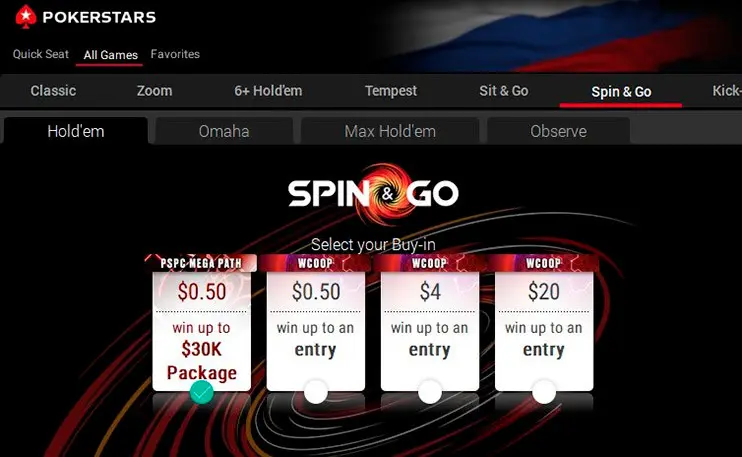 If we consider only Hold'em Spin and Go (most traffic falls here), there are only a few differences. PS offers a $1,000 game, and the millionaire multiplier falls randomly across different stakes.
Both rooms offer Spin&Go in two formats: classic and fast.
Overall, partypoker has an advantage in this format. In addition to the lower rake in $10, $250, and $500, there are regular races with a fixed 30% rakeback if you rake more than $1,000 per week.
Softness of the field
Although partypoker and PokerStars have been applying different measures to protect the poker ecology, due to their popularity and the benefits of the loyalty system in both rooms, the "regfestation" is higher than the industry average.
This is especially true for medium and high stakes for Zoom and Spins. Of course, also due to their popularity, both rooms attract many amateurs to the lowest stakes, including those from casinos and sports betting.
Overall, we can conclude that both sites' skill level is not a benefit.
Policy towards professionals and amateurs
As we said above, the management of the room declares that their main database is composed of casual players, and the regulars exist only as a living element of the ecosystem, the role of which is mainly negative.
Due to this, they have restricted table selection, PS introduced active waiting lists, and partypoker banned HUDS.
However, unlike GG Network, these rooms have not killed a decent rakeback. Pros are still welcome; it's just more challenging to use their skill to beat amateurs fast.
Ambassadors
The teams of both rooms have significantly been reduced in recent years. At the same time, PokerStars began to recruit celebrities instead of professional players (Neymar or Ronaldo).
Partypoker continues to work with streamers and middle-stakes grinders.
Deposits and withdrawals
Extensive experience in the online poker market has helped the rooms gain an impeccable reputation regarding payouts. Both offer a comprehensive set of payment processors. You can find:
Visa, Mastercard.
Skrill.
Neteller.
ecoPayz.
MuchBetter.
Webmoney.
Luxon.
Bank transfer.
None of these poker rooms have added cryptocurrencies to the cashier.
Customer service
The primary way of communicating with the poker room is e-mail. We didn't notice any particular differences in the speed of responses.
Both sites also run active social network accounts (Twitter, Facebook), and any question can be asked to their representatives there.
Conclusions
PokerStars and partypoker are two of the oldest and most trustable poker brands, so their difference is minimal in many aspects. Players only need to define whether they need to use a HUD or check if there is enough traffic in their stakes.
partypoker can attract poker fans looking for equal conditions at the tables (no third-party software). Regs who are not bothered by this have an excellent opportunity to get higher rakeback than on Stars, thanks to better promotions and the possibility to play more tables simultaneously (in Zoom up to 9).
On the other hand, PokerStars means more traffic throughout the day, action in exotic formats, and a familiar platform. For many pros, the decisive factor is the presence of higher stakes and HUD compatibility.
In our opinion, the final answer to the question: PokerStars vs. partypoker: where to roll? It can only be given by the player himself after defining his needs.
Or you can just read our PokerStars review and partypoker review, reach our customer service and ask for a round-table to find out what other rooms fit you better: