Best Spin & Go poker sites 2023
Best Spin & Go poker sites 2023
Author
Vargoso
Published
4/26/2022
Updated
1/10/2023
Spin & Go is the most popular SnG format at PokerStars. The same goes for all other online poker sites and not without reason: fast-paced action, a wide range of available stakes (from $0.25 to $500), and the opportunity to win 10K+ buy-ins at once. As of 2023, all top poker rooms already offer their own Spin and Go variations, sometimes with an addition of unique features. This article will tell you about the best online poker sites to play Spin & Go, including specific information like multipliers, probabilities, and strategies.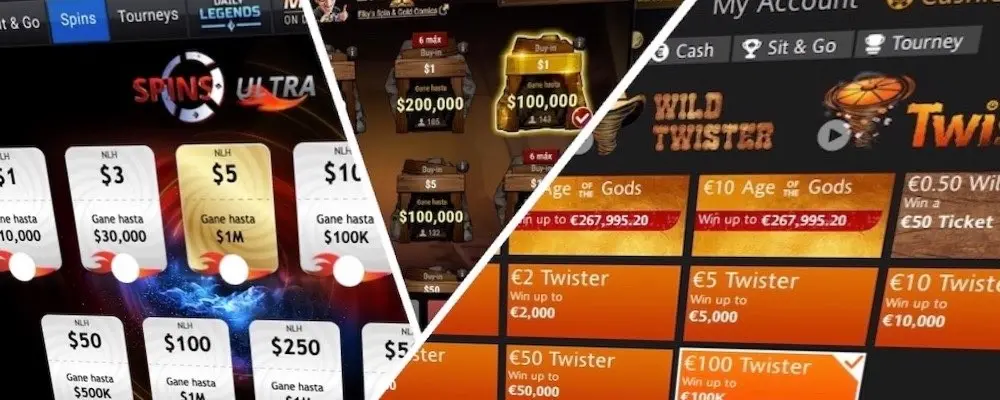 Best poker sites to play Spin & Go
We invite you to play a fast-paced short-handed tournament that can make you a millionaire in minutes...sounds appealing, right? That's probably a great line to introduce Spin and Go, a 3-max SnG assigning random prize pools. It isn't shocking that all top poker rooms added casual-magnet games to their lobby.
In this article, we will check all the details about this format, including some tips to crush the tables; but, if you just want to know where you can play, here is a list of the best Spin & Go poker sites:
What is Spin and Go?
Spin & Go is an amazing three players max SnG format, usually Texas hold'em with a hyper-turbo structure, where the prize pool is determined randomly. 
How does it work?
The prizes depend on the random buy-in multiplier, which can vary from x1.5 to x200,000, thus giving the chance to win a life-changing amount in minutes. Of course, the larger the multiplier, the less likely it appears. Therefore, the prize pool of 90%+ Spin & Go's equals 2-3 buy-ins.
The first lottery-style poker tournaments of this kind were launched in 2013 at Winamax under the name "Expresso." Since then, this poker format has had many variations, but all of them have the following standard features:
Table size: 3-max (GGPoker offers 6-max);
Blind structure: hyper (3-minute levels by default);
Starting stack: 500 chips (20-25BB);
Payout structure: the winner takes all. There are consolation prizes for the other two participants when top multipliers are hit;
Rake: from 5% to 8%.
Probabilities, stakes, and payouts
Each poker room has its own stakes range, multipliers, probabilities, and payout structures. It is impossible to cover all of them within one article, so let's take PokerStars as an example.
Pokerstars Spin&Go Probabilities

Multiplier

Probability (in 1M games)
$0,25-$2
$5-$10
$25-$50
$100
2
494,882
464,882
434,882
404,882
3
414,012
444,012
474,012
504,012
5
85
85
85
85
10
5
5
5
5
25
1
1
1
1
120
75
75
75
75
240
30
30
30
30
12
1
1
1
1
Payouts:
Pokerstars Spin&Go payouts structure

Multiplier

Payout (for $5 buy-in)
1st place
2nd place
3rd place
2
$10
 
 
3
$15
 
 
5
$25
 
 
10
$40
$10
 
25
$100
$15
$10
120
$500
$50
$50
240
$1,00
$100
$100
12
$50,000
$5,000
$5,000
Spin & Go variations
In almost 10 years of Spin & Go history, each poker room has brought some new features, which make their own version of lottery tournaments unique.
PokerStars Spin & Go
PokerStars launched two additional variants of these tournaments:
Spin & Go Flash is an even faster version with shorter stacks (300 chips) and blind levels (1 minute).
Spin & Go Max tournaments feature a random number of players (from 3 to 8) and the opportunity for the winner to choose between several random prizes.
In addition, PokerStars is the only poker room that offers Omaha Spin & Goes.
For the classic Spin & Go's, the blind level duration depends on the multiplier:
X2 – 2 minutes.
Х3-5 – 3 minutes.
Х10-25 – 4 minutes.
Х120+ – 5 minutes.
GGPoker Spin&Gold
GG Poker introduced its own version (Spin & Gold) only at the beginning of 2020, which made it possible to use the experience of competitors and introduce the following innovations:
Insurance – the player gets back his buy-in and the insurance amount when the x2 multiplier hits.
Jackpot multipliers – huge multipliers (x5,000 - x100,000) have been added on top of the standard ones (up to x100).
The entire tournament structure (starting stack, blind level duration, and timebank amount) depends on the multiplier.
6-max Spin & Gold format (4 limits available).
Spin & Gold Challenges with up to $700 payouts for completion.
Read more about Spin & Gold in our dedicated article.
Partypoker Spins
Spins have 10 stakes available, one of which ($5 buy-in) offers increased multipliers and a maximum prize of $1M. In addition, players can choose Spins Ultra: the same stakes with an even faster structure (300 chips starting stack, 1 minute blind levels).
iPoker Twisters
Twisters feature a classic structure, a maximum multiplier of x1,000, and seven stakes of up to €100.
Also, iPoker Network offers a faster version of Spin & Go's - Age of the Gods (100 chips starting stack, 2 minutes blind levels). Players can choose between 3 stakes (€1, €5, €10) and have the opportunity to win a share of the progressive jackpot.
Spin & Go variance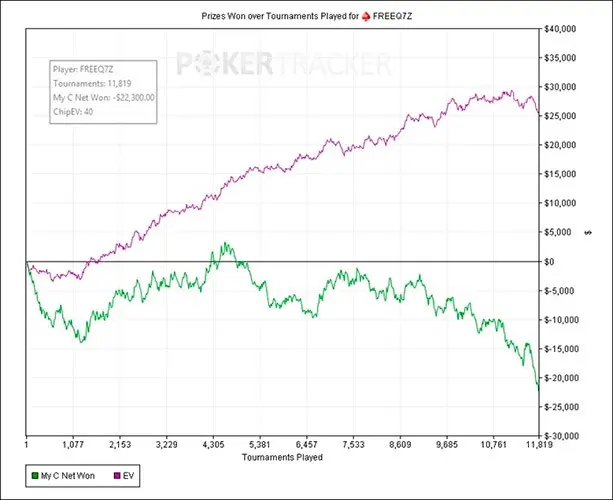 The difference between the EV winnings and the real ones, in the long run, can be huge. It primarily happens because of the main feature of these tournaments - the hyper-turbo structure. 
Players often have to go all-in in spots with no more than 60%-70% advantage. Therefore, they can make correct decisions and not finish ITM for quite a long time due to lucky opponents who always manage to hit their outs. 
And there is no way for a player to wait for premium hands because the stack "melts" very quickly, thus decreasing the chances for top place. Read on to find out how to deal with the variance. 
Spin & Go strategy tips
If you want to make a profit in the long run, take a look at these basic tips:
Follow bankroll management. The optimal bankroll size is 200 buy-ins: the lower your ROI, the higher this figure should be. During a downswing, do not delay the move down to a lower stake; during an upswing, do not move more than one stake up at once.
Play regularly. It is optimal to play at least 3,000 tournaments per month.
Constantly improve your game: find leaks, optimize hand ranges, and discuss hands with other regulars. Use any allowed software, especially trackers. 
Take every tournament seriously, regardless of the multiplier. Fight for the top place till the end.
Learn to deal with tilt and optimize your daily routine.
Make a list of goals for each session like practicing certain skills and automating decisions in default spots: push-fold, HU game, open-raise sizings, assessing the strength of hands depending on the opponent, etc.
After moving up to mid-stakes ($30+), start learning GTO.
Hand ranges
Opening ranges hand charts is the most effective strategy if you are new to Spin & Go. 
Open-raise from BTN
You should always raise 2BB from the button. Unlike other poker variants, you don't have to reduce the number of opponents in the pot (there are only two of them anyway) or strive to go all-in preflop in Spin & Go. Considering the initially short stack, each blind has to be counted.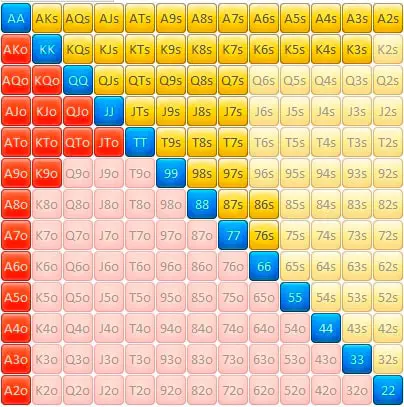 Raising at least 34.8% of starting hands from this position is recommended - this is mandatory for a profitable game. The higher stakes you play at, the wider you can open from the button, but without going over 50%. Otherwise, the risks of ending up in tricky spots will be too high.
Open-raise from SB
Due to very short stacks, it is not worth opening too many hands, even against one opponent. But at the same time, you have to increase the sizing to 2.5BB to get more folds.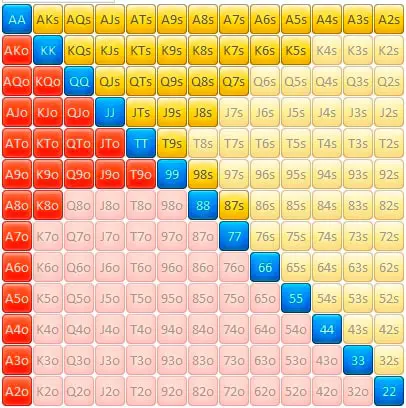 If your opponent on the BB plays overly tight, you can switch to mini-raises with a wider range of hands.
Push-fold hand charts
These charts should be used when an effective stack size equals 10BB or less.
Open-push from BTN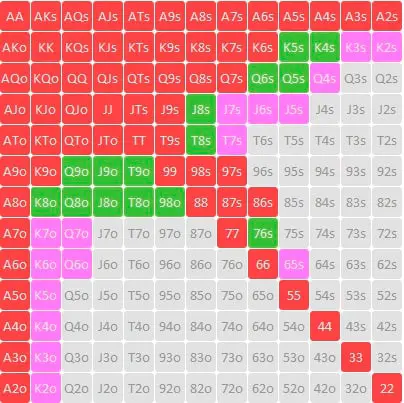 Red: 8-10BB.
Green: 6-7BB. 
Purple: 5BB or less.
Open-push from SB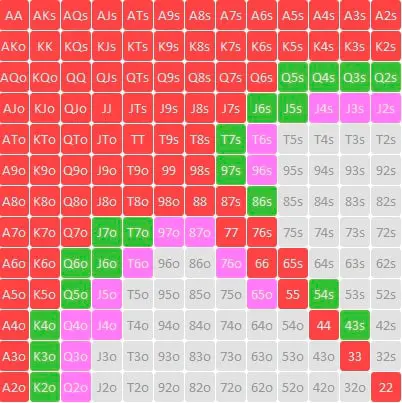 Red: 8-10BB.
Green: 6-7BB. 
Purple: 5BB or less.
HU spots
The small blind gets the advantage when playing heads up, so you have to play as aggressively as possible from this position. The open-raise range should be about 80%.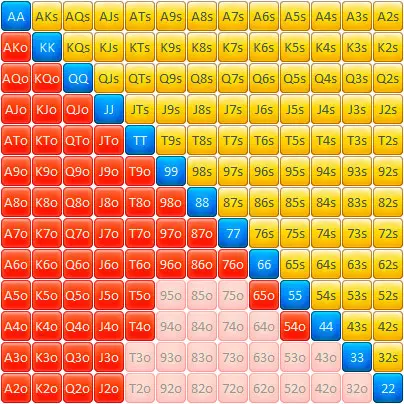 Of course, this does not mean that it is worth calling the opponent's all-ins with the same range. If you have less than 10BB in your stack, your optimal strategy strictly follows the Spin & Go push-fold charts.
You should play substantially tighter from BB due to being out of position postflop. Don't play speculative and trash hands - trying to hit a good draw on the flop with such short stacks is not a good idea. Use Ax hands, pocket pairs, and broadway hands.
Is it profitable to play Spin & Go?
Although this poker variant has a high variance, it is quite possible to make a profit at any top poker room in the long run. The most crucial factor in achieving it is a professional approach, the basics of which we have explained above. 
Spin and Go has stood the test of time and continues to attract a large number of casual players.
Spin & Go vs. classic poker
Modern online poker tends to be more dynamic and diverse, so new formats are created in line with this trend.
Spin & Go, unlike the classic SnG tournaments, offers a maximum level of action due to several features: a minimal number of participants, a high-speed blind structure, and a random prize pool.
At the same time, one should not forget that Spin & Go, with all its features and specifics, remains the poker variant that follows the classic rules, so the skill level is still the most crucial factor here.
Summary
Let's summarize what Spin & Go is all about:
Table size: 3-max.
Blinds levels: 1-3 minutes.
Starting stack: up to 25BB.
Prize pool: it depends on the random multiplier ranging from х1.5 to x200,000.
Payout structure: the winner takes all (low multipliers) or 2-3 paid places (medium/top multipliers).
Different poker rooms can offer their own range of stakes, multipliers, rake, and structures.
The two leading online poker rooms - GGPoker and PokerStars - offer variable blind levels: the larger the multiplier, the longer they are.
FAQ
✅ How does Spin & Go work?
After the tournament starts, a unique animated wheel (roulette or something similar) appears, which shows all possible prizes. When the wheel stops, players can see the payouts and proceed to the game.
✅ What bankroll management rules are recommended for Spin & Go?
The minimum bankroll size should be at least 200 buy-ins. If your ROI is low (1%-2%), it has to be increased to 400-500 buy-ins.
✅ Is it possible to beat Spin&Go?
Yes. Low stakes can be beaten by any player who follows bankroll management and constantly works on improving their poker skill. The higher the stakes, the more effort and time it will take to beat them.
✅ Where can I play Spin & Go besides PokerStars?
Currently, these tournaments are offered at almost all poker rooms. We recommend Spin & Gold (GGPoker), Spins (partypoker), and Twister (iPoker Network).
✅ How much can I win by playing Spin & Go?
You can win up to a million dollars in a single tournament at online poker sites. Moreover, you don't have to play at the highest stakes to become a millionaire. Take a look at the buy-ins you have to pay at different poker rooms to have a $1M payout: GGPoker - $10, partypoker - $5, Winning Poker Network $5 and $15, Chico Poker Network - $10.
✅ Is it possible to make a profit in the long run by playing Spin & Go? 
Yes. Suppose you follow the correct strategy, improve your game away from tables, analyze your opponents, follow bankroll management, and maintain psychological stability during a downswing. In that case, your approach to the game can be considered professional, and it will allow you to make a profit at any Spin & Go stakes.
✅ What ROI is considered good in Spin & Go?
The average ROI is about 3%-5%, which roughly corresponds to 37% of 1st places won. Everything above these numbers is considered very good. But even a lower ROI doesn't mean you can't beat Spin and Go. You'll just have to play more tournaments to move up the limits and increase profits and have a significantly larger bankroll to deal with the variance. 
✅ Are Spin & Go tournaments rigged? 
Definitely not! All top poker rooms have RNG verification certificates issued by independent auditors. Any interference with the operation of the RNG is prohibited by gambling licenses. Due to the large number of hands, some players may feel that the RNG is "cheating" them, but this is only a manifestation of the high variance.
✅ What is the difference between Spin & Go and SnG? 
Each of these formats has its own advantages. Classic SnG tournaments have lost the competition against Spin & Go's in modern online poker despite having a lower variance. Currently, they are much less popular - many poker rooms do not offer them at all. And at those of them that have both formats, the Spin & Go traffic is much higher and the number of casual players.
Benefits of our affiliate service:
Top rakeback deal for pro players
Exclusive rake races
Professional customer service seven days a week
Contact us to get a deal and start playing now:
Telegram: @WPD-Support
Skype: WPD Support Skype
Email: [email protected]
WhatsApp: +905430740558
Stay tuned on our Telegram channel for more EV+ news
Review
Private clubs, rake stats, free hand histories, secret offers and more
Gambling industry news and insides, ratings of best poker rooms, bonuses, races and rakeback. The most undiscovered and fishy rooms of internet. Consulting and players' support. Working since 2013.
2013–2023. All rights reserved