GGPoker Hand History and PokerCraft overview
GGPoker Hand History and PokerCraft overview
Author
Vargoso
Published
11/6/2019
Updated
4/7/2022
One of the main features of GGPoker is its Security & Ecology agreement, which in short, is their roadmap to guarantee that action will remain safe and soft. Prohibiting the use of any third-party software while playing (including HUDs) has always distinguished the network.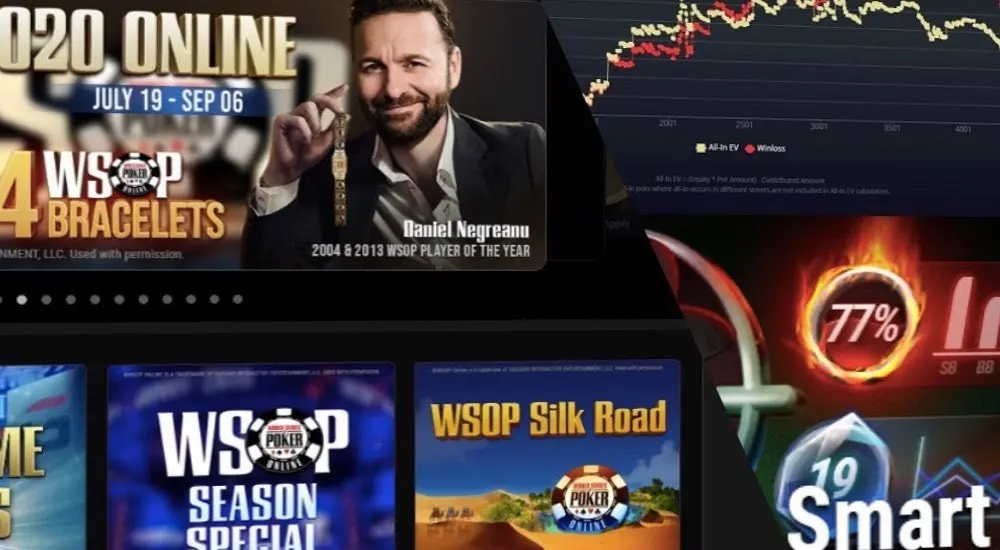 But since late 2019, GGPoker players are allowed to download their game hand history to conduct offline sessions reviews. In addition to that, unique features like PokerCraft and SmartHUD has been launched.
GGPoker hand histories
Hand histories are raw material for poker grinders. With this information, poker tracking software can display any statistics, and in many sites, are used to show those in real-time (HUD).
But on GGNetwork, this hasn't always been like this. When the site launched in 2014, they didn't allow using trackers/HUDs, and there was no access to HH.
When GGPoker became global, many grinders began to demand more information, and they choose to satisfy amateurs and pros:
PokerCraft and SmartHUD tools were launched; we will study these features later;
Hand histories became available to download.
With these two changes, GGPoker gave some data to grinders, but they still control what information does the player get, and they show SmartHUD to all participants regardless of their style. A fair solution, some may think.
But, GGPoker hand histories have some nuances that we will check now.
Hand histories format
You can download cash games and tournaments' file. For the first one, the process can be done per session(s) and stake, and about MTTs, it can only be done one by one.
There is a catch: every single hand creates an independent text file, therefore if a tournament lasted 1,000 hands, you'd get 1,000 small files. 
Importing data like this into a tracker database can take much time, but you can fix it by integrating all the games into one file using macOS Automator or Windows CMD.
Are GGNetwork hand histories compatible with trackers?
In short, yes, but you must expect mistakes as some data is not displayed correctly. For example, you can't trust net profit, rake, straddle pots, or fast-fold poker data exported from GGPoker PokerCraft tool.
Basically, GGPoker HHs are useful only to check your actions and fix your leaks.
In the tracker, the grinder is shown as Hero, and usually, the games are added as PokerStars and not GGNetwork.
Hold 'em Manager 3 and PokerTracker 4 are compatible with GGPoker hand histories; older versions have not added support.
How to download GGPoker hand histories?
Use the following manual to export hand histories from PokerCraft:
Click on PokerCraft icon on the lower right part of the GGPoker client;
Choose the game format in the left menu;
Click on the sessions or tournaments you want to download;
Click on Game History;
Click on the red "Download" button at the right part of the window.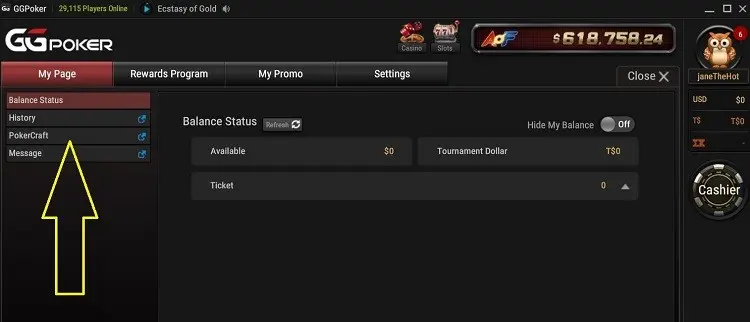 The hands will be downloaded in a zipped file. Uncompress it, and integrate the data into a single text file, and after that, you will be able to import it to your tracker database.
PokerCraft and SmartHUD
GGPoker PokerCraft was launched back in 2017. It gathers statistics of the grinder. To access it, log in to your account, click on the avatar on the upper right corner, and then you'll see the PokerCraft panel in the lower-left corner.
PokerCraft is a web-browser application. The interface is designed in two fields. The left one is a list of available tabs with statistics. The right one is information about the current tab.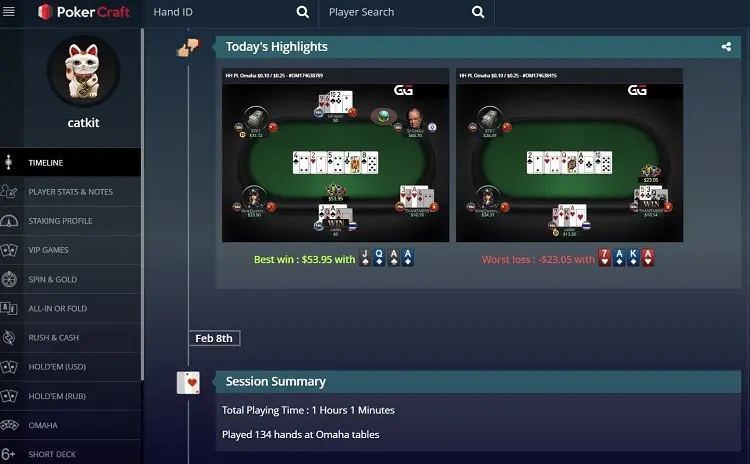 Let's briefly go through each PokerCraft tab:
The events are displayed in blocks with the summary of the sessions (duration, number of games, format, biggest pots, bonus wagering, etc.). The messages in the fed can be changed using filters.
The shareholder profile shows all data related to buying and selling shares in GGPoker tournaments.
All other tabs are divided by game type and have a typical structure.
Each tab by poker format consists of five sections that gather information based on all your game history (Hold 'em, Omaha, Rush & Cash, etc.)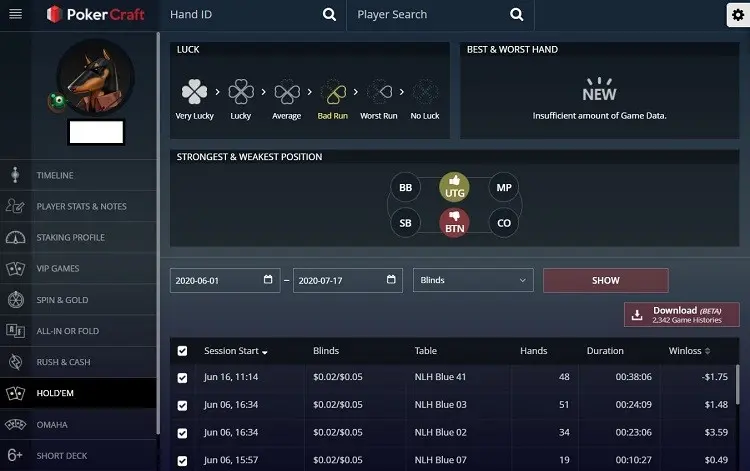 Play Style — characterizes the player according to pre-determined styles: tight-loose, passive-aggressive, etc. Minimum 100 hands are required, and there are in total of eight styles of players.
Luck — shows the level of luck from six levels. Those are displayed in the form of a cloverleaf and show the ratio of real win and loss vs. expected value (minimum 1,000 games required).
Best & worst hand, and strongest/weakest position — from which position at the table/pocket cards you most won and lost at GGPoker.
Hand history
The last item is divided into independent elements. To activate all of them, you must select the time of period for which the list of individual sessions at individual tables and stakes will be displayed (you can choose all). After that, click on the "Show" button.
For each session, it's displayed the time of beginning, stake, table name, the number of hands played, the duration of the game, and the results.
If you put a checkmark in front of each session's description, five more panels will open, showing all games: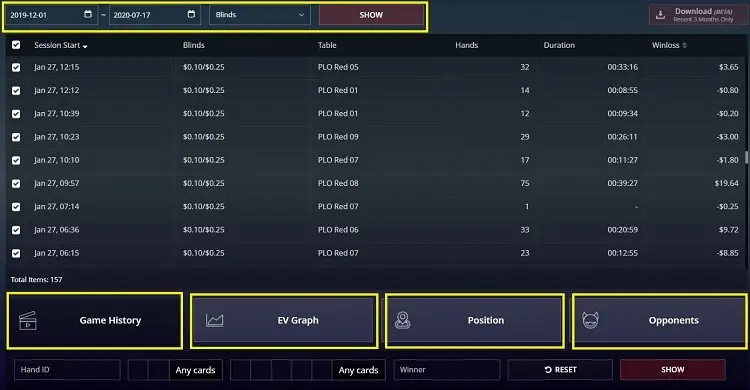 Game History — includes results that can be filtered by several criteria, including profits. Clicking on each game in the list opens an image of the table similar to the GGPoker client.
You can save this image as a separate PNG file.
EV chart — shows two graphs: real profit and EV;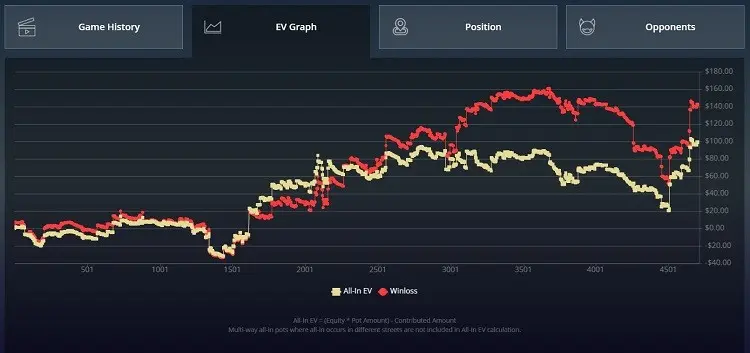 Hole cards — a table with all hole cards shows the total profit for each of them; win/loss are highlighted in different colors;
Position — displays the VPIP for each position and profits;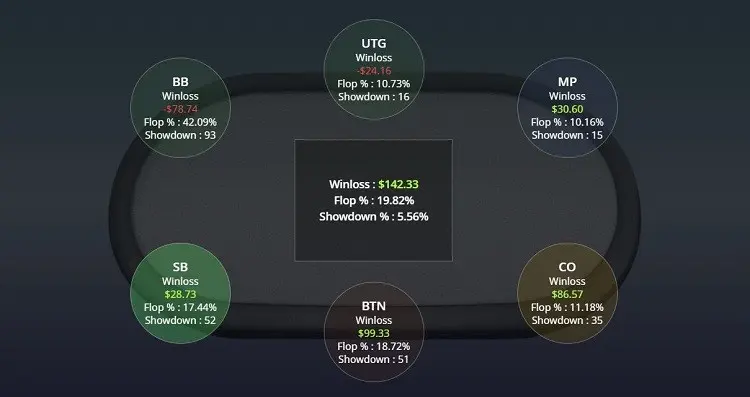 Opponents (available only for regular tables) — give a chart with the nicknames of the five villains that you most won or lost.
SmartHUD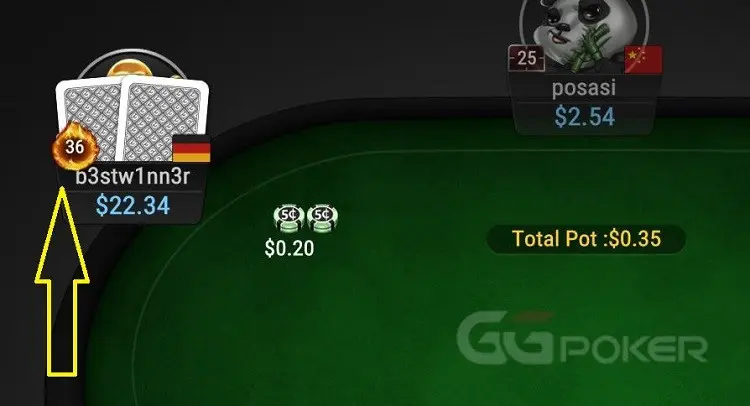 SmartHUD was launched in October 2018, and since then, it has been updated several times. It's a session HUD, and it's the same at all GGPoker cash tables.
Directly at the table, SmartHUD is represented by a block on the top left of each player's nickname. Inside the block, the VPIP at the current table is shown.
If a grinder wins a big pot, its block is surrounded by flames. If he loses, the is covered with ice.
Clicking on a nickname opens additional SmartHUD statistics: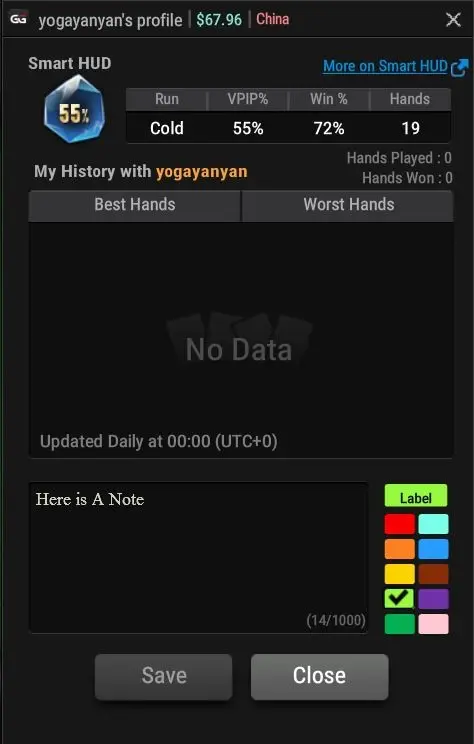 You can also take notes of each player. SmartHUD is a powerful tool to catch tilted players at the tables.
Smart Betting
Of course, GGNetwork won't have such incredible recreational traffic if the client wouldn't have been optimized; the software features options like buying insurance, the possibility to check the board after folding the hand and running it twice, emoji, among others.
For the fall of 2019, the GGPoker network has announced another novelty entirely focused on recreational players: a new option called Smart Betting was introduced exclusively for the mobile gaming client.
Smart Betting is an intelligent betting system because it uses a particular algorithm that collects information about players' actions and decisions, creating a "betting profile" that will be used to offer pre-made actions. In some cases, Smart Betting will also recommend the optimal bet size.
Representatives of the GGNetwork stated that the primary goal of launching Smart Betting is to play effortlessly through the mobile application: choosing between pre-made betting options is more comfortable than choosing them manually or using a unique slider.
There are always four betting options. At the same time, if the player doesn't like any of the options, he can press a button (in the form of a rounded arrow), and Smart Betting will turn with new betting options for him. By default, the option won't be activated, and to enable it, the player must go to the table settings.
Conclusion
GGPoker slowly became a preferred site for amateurs, and poker pros still try to get a piece of the cake. Tools like PokerCraft are proof of all the unique features that the network has implemented to preserve the poker ecosystem.
PokerCraft Tries to fulfill the absence of poker tracking software, while Smart Betting and SmartHUD focus on improving newcomers' experience.
Advantages of our affiliate service:
Private promotions and tournament tickets on our Telegram channel;
Professional support on all issues seven days a week.
Contact us to get a deal and start playing now:
Telegram: wpd-support
Skype: wpd-support-skype
Email: [email protected]
WhatsApp: +905430740558
Stay tuned on our Telegram channel for more EV+ news
Review
Private clubs, rake stats, free hand histories, secret offers and more
Gambling industry news and insides, ratings of best poker rooms, bonuses, races and rakeback. The most undiscovered and fishy rooms of internet. Consulting and players' support. Working since 2013.
2013–2023. All rights reserved