Win a trip to the $500,000 GTD WPT500 Mexico at WPT Global
Win a trip to the $500,000 GTD WPT500 Mexico at WPT Global
Author
Vargoso
Published
4/12/2023
Updated
4/12/2023
The World Poker Tour will visit Mexico for the first time in an exclusive tournament for WPT Global players: the WPT500 Mexico City guarantees $500,000 and will be played from May 31st at the Fronton, Mexico City.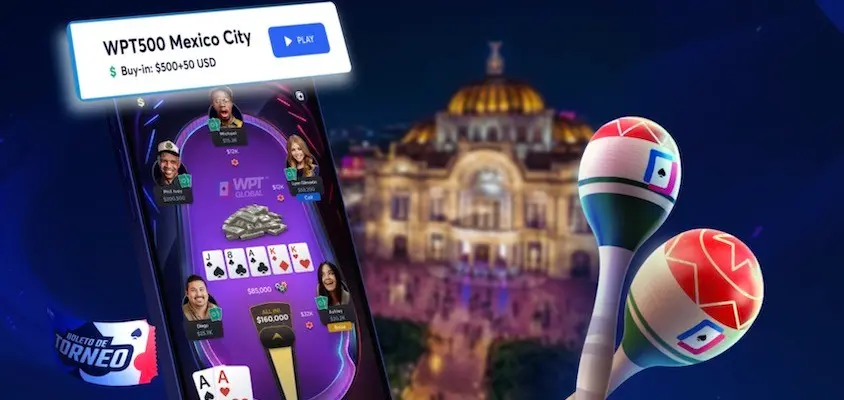 WPT Feria Mexico City
Thanks to the backing of the prestigious World Poker Tour brand, WPT Global continues to hold massive promotions to promote its online platform. On this occasion, they will hold a two-tournament festival in Mexico City, which will have online and live stages.
The WPT Mexico City Festival will be played at The Fronton* on May 30th and 31st, 2023. It will consist of two tournaments, the WPT500 with $500,000 guaranteed and the WPT Mystery Bounty.
*The Fronton is an events center located in the Tabacalera neighborhood of Mexico City and was restored in 2017, including a casino.
WPT500
Perhaps the most exciting event is the WPT500, with a guaranteed prize of $500,000, which can be considered one of the first tournaments on the official circuit that is played both online and live.
Days 1 from April 9th to May 21st at WPT Global for $500 + $50
Online satellites from $5.
It will also be possible to play Day 1 live at the venue.
All starting flights are played down to 12.5% of the field.
Day 2 will be played at the Fronton in Mexico City on May 31, 2023
All players who qualify for Day 2 will receive $1,000 in their WPT Global account to cover their trip to Mexico.
You can play as many starting flights as you want. Only the biggest stack will be considered for the live event (and only one $1,000 package), and all lower stacks will be considered mini-cashes.
WPT Mystery Bounty
To complete the party, a tournament will be played in the trending format with a maximum bounty of up to $100,000*
$5,000 Buy-in (50% to the regular prize pool, 50% to the bounty pool)
It will be played live in Mexico City on May 30 and 31, 2023
*With 100 or more players, the maximum bounty will be $100,000. From 60 to 99, it will be $50,000; between 40 and 59, it will be $25,000. The minimum bounty will be $1,000.
The buy-in and payments will be made exclusively via WPT Global.
Online satellites from $5 from April 9th to May 21st
WPT Global will add $50,000 in bounties to the prize pool
There will be at least one extra bounty at each table among WPT ambassadors and influencers.
Create a new WPT Global account with Worldpokerdeals and get a unique 100% welcome bonus of up to $1,200 and access to a private rakeback deal.
Contact us to get a deal and start playing now:
Telegram: @WPD-Support
Skype: WPD Support Skype
Email: [email protected]
WhatsApp: Contact
Stay tuned on our Telegram channel for more EV+ news
Review
Private clubs, rake stats, free hand histories, secret offers and more
Gambling industry news and insides, ratings of best poker rooms, bonuses, races and rakeback. The most undiscovered and fishy rooms of internet. Consulting and players' support. Working since 2013.
2013–2023. All rights reserved