Daily $30,000 GGCare Flipout freeroll at GGPoker
Daily $30,000 GGCare Flipout freeroll at GGPoker
GGPoker will launch a new promotion from January 1, 2021: GGCare. All players who lose at the cash tables at least once a day a hand with a bad beat, cooler, or suckout, will be able to play a GGCare Flipout lottery freeroll with a $30,000 prize pool.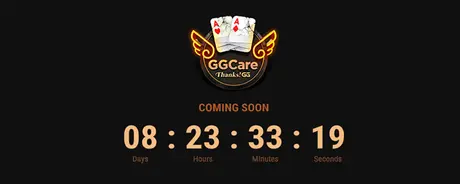 Daily $30,000 Flipout freerolls for bad beats
Poker rooms have hosted "bad beat" promotions for a long time. The most common are jackpots, in which players get massive payments triggered by unlucky hands. At GGPoker, there are several jackpots, rewarding players at the 6+, AoF, and regular cash gables.
However, bad beats and coolers remain one of the most common talks in poker, and the site decided to take a different approach and launch a promotion to at least partially compensate for lossing in such "unfair" hands:
Starting January 1, 2021, all players victims of bad beats, coolers, or suckouts, will be automatically entered into a $30,000 GGCare Flipout lottery freeroll.
Moreover, the more such hands during the day, the larger the stack in the tournament you will get. For January 2021, Flipout freerolls will reward $930,000.
How will GGCare work?
It is stated that players will get tickets for three types of hands:
Bad Beats — loss to a hand that had only a few outs to win.
Suckout — loss against an underdog draw.
Cooler — loss with a strong hand to an even stronger combination of the villain.
We took the definitions from a regular poker glossary. It's still unclear what's the GGPoker approach. On the promotion page, about the conditions for getting an entry, it is said:
What are the exact conditions under which Bad Beat, Suckout, or Cooler is triggered?

Specific details vary from game to game and often change depending on several external factors. Thus, the exact conditions that trigger these events will not be listed. Our gaming experts team will continuously look for unfortunate situations throughout the gameplay and add additional triggers.
In other words, players will have to entirely rely on the network's algorithm and its employees, similar to PVI rake.

The promotional picture shows us a classic AA vs. KK preflop cooler in a WSOP Final Table. Fedor Holz wins with pocket aces, and Daniel Negreanu announces that GG has the back of the villain holding the KK.
What is the meaning of the new promotion?
GGNetwork once again confirms its pro-amateur policy by launching GGCare. After all, in theory, any regular should understand variance and accept all coolers and bad beats as "normal."
But casual players consider such cases to be deeply unfair. If he falls victim to several bad beats during a session, then his mood will dramatically change. He may think about looking for another room.
GGCare should have a positive impact as it will be a reason for amateurs to keep playing at the site, leveling the field.
A fairly impressive daily prize pool and more triggers than a classic Bad Beat Jackpot will allow more players to get into the daily $30,000 GGCare Flipout.
Advantages of our affiliate service at GGPoker:
Private promotions and tournament tickets on our Telegram channel.
Professional support on all issues seven days a week.
Contact us to get a deal and start playing now:
Telegram: @alexey_wpd
Skype: live:newbheartstoned
WhatsApp: +66658566798
Email: [email protected]
Stay tuned on our Telegram channel for more EV+ news