PLO6: where to play 6-card Omaha in 2023
PLO6: where to play 6-card Omaha in 2023
Omaha has massively developed in modern poker. In recent years, new formats have been added to its classic version, adding more hole cards. This article will dissect 6-Card Omaha (PLO6): its main features, rules, and strategies. We'll also talk about online poker sites, where you can enjoy the perks of having 6 cards.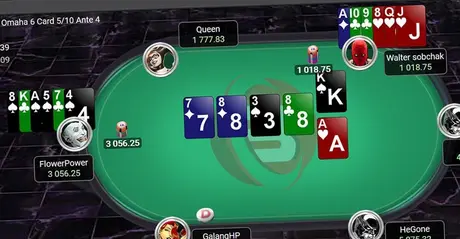 What is 6 Card Omaha?
Six Card Omaha (also called 6-O) is a poker game in which the number of starting hand options is so large that it creates many opportunities for players to get into various draws. The strategy of this game has not yet been fully developed (unsolved), and there are few online poker rooms where you can play.
However, the same PLO5 (5-Card Omaha) rules apply here.
Where to play PLO6-card in 2023
In fact, only Pokerstars and major mobile poker apps have active PLO 6-card tables. Еhe details below:
How to play PLO6
All the rules used in other Omaha PLO formats also work in PLO6. The only difference is the number of hole cards. Preflop each player at the table gets six cards in his hands.
During the hand, the dealer shows five more community cards on the board (three on the flop and one each on the turn and river).
To win, you need to get the strongest 5-card combination. It is mandatory to use only two of the six pocket cards and three of those on the table in the final combination.
Best 6 Card Omaha starting hands
Let's just say that in this type of poker, the value of pocket cards is even lower than in the classic PLO. Hence, it is not enough just to choose a good starting hand.
The board cards are critical in PLO6. Although you have more cards, you can use only two in the final combination.
Also, more pocket cards not used in creating a combination (and there are 4) help players to determine the strength of the opponent's hand more accurately.
For example, in classic Omaha, you can create six combinations of two cards using your hole cards. In PLO5, this number increases to 10, and in the 6-card version of the game to 15!
As a result, when choosing the right starting hand, you need to look not just for matching premium cards, but as many combinations of cards as possible that can eventually complete a flush or a straight; that is potential nuts.
Double Aces
Giving high-value to paired aces preflop in PLO6 is a pretty bad idea. After all, they have only 57% equity against any opponent's range, which is 3% less than in PLO5, and 9% less than in PLO4.
You must consider the rest of the cards wherever you are ready to play a hand. They should be combined with aces as best as possible. And it is always necessary to decide which line of the draw is the most optimal based on its "compatibility."
Therefore, it is better to avoid action with aces while out of position; in all other cases, it is better to simply call the opponent's bets. Also, do not forget that the more players enter the hand, the stronger the combinations of cards with your aces should be.
To sum up, overestimating AA starters in 6-card Omaha is even more dangerous than in other formats of this game.
What is a dangler?
In classic Omaha, we strive to ensure that all four pocket cards complement each other and make it possible to create a flush and a straight.
In PLO6, waiting for the perfect hands is a bad strategy because your stack will be "eaten" by the blinds. It is necessary to play with some offsuit cards.
Of course, you must play more carefully with offsuit pocket cards, and danglers should not be more than 1-2 cards.
Strategy tips for beginners
We advise you to start by clearly articulating a list of differences between the Omaha formats. Since there is not enough detailed PLO6 strategy yet, the main way to improve the skill will be the experience gained during the sessions.
It is crucial to highlight actions that help increase the win rate and those that negatively affect it. Keep a close eye on your rivals because you can learn not only from your mistakes.
Below we will give some tips to help beginners succeed at the 6-card Omaha tables.
Choose only strong starting hands
It is with this choice that each hand begins. And in PLO6, the hand with which you enter the game from any position must always be stronger than in any other format you have played before. An elementary rule applies here: the more cards players get in their hands, the stronger any average combination you see on the showdown will be.
In addition to the position, you must consider opponents' actions before you. Do not lose sight of the hand's equity, especially when playing without a position!
The strength of the hand is realized not only in the face value of the cards but their compatibility, the number of possible draws, and also in blocking such opportunities for the opponent.
In 6-Card Omaha, for example, a Q high flush draw will often be a weak combination and not strong enough to boast the pot.
Position, position, position
You can't overestimate your 6 - O position. It is recommended to re-raise off position, making it easier to realize your equity. There will be a lot of spots in relatively small pots where you will have to check and give up on any opponent's bet.
The position can be played much broader. Especially in ante games, we have more incentives to fight for the pot.
The actions of your opponents on the blinds deserve special attention. Blind theft is relevant in all types of poker. If the opponent does not adjust to you and remains passive - play aggressively. Even if you get called, you will retain a positional advantage post-flop.
Don't play many tables
In general, it can be said that this poker format is challenging to multi-table; it is generally better for beginners to play only at one table at first, orient themselves to a complex post-flop, and the choice of starting hands that can provide you with the maximum number of solid draws on boards with different structures.
Bankroll strategy
The last but not least. You must forget about bluffs and stick to a conservative bankroll strategy – from 200-300 buy-ins.
Conclusion
Omaha is a high-variance game, and more pocket cards only increase it. The number of potentially strong hands is higher. You have to play even looser. Therefore, 6-O becomes a game that, in theory, suits everyone:
The poker room gets more rake.
Amateurs get even more action.
Bursts of variance and big wins give the casual player the impression that he knows how to play here correctly.
The regulars, understanding the above, reasonably believe that even in such an action-packed format, the long term will pay its debts, especially with many weak opponents. Also, regs can be utterly calm that bots, scammers, or 6 card plo calculators will not be seen at the tables.
Benefits of our affiliate service:
Top rakeback deals for pro players
Exclusive rake races
Professional customer service seven days a week
Contact us to get a deal and start playing now: