Best poker sites to play PLO in 2023
Best poker sites to play PLO in 2023
Pot Limit Omaha (PLO) has long and firmly gained 2nd place in popularity among poker variants. The simple addition of extra pocket cards has made PLO a favorite among casual players and the fastest-growing format in recent years. Which online poker sites are best for playing the classic 4 Card Omaha poker (PLO4)? We'll figure it out below.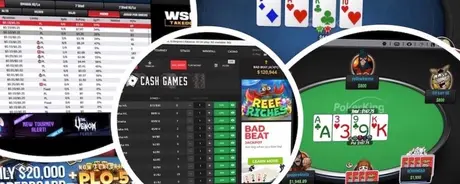 Top online poker sites to play Pot Limit Omaha (PLO)
Any features that help reduce the impact of variance on game results should be considered when choosing a poker site for a regular grind. It will have a direct impact on your win rate.
Lower rake, a higher percentage of real rakeback, and softness of the playing field help increase the win rate. The better these conditions are, the more aggressive bankroll management you can use to move up the stakes faster.
Based on these factors, here are the best PLO poker sites:
| Room | Rake (cap) | Rakeback | HUD |
| --- | --- | --- | --- |
| GGPoker | 5% (1,5-3ББ) | 10%-60% | No |
| Chico Network | 5,5% ($2,5-$5) | VIP | Yes |
| Winning Poker Network | 5% ($2-$3) | 12%-65% + VIP | Yes |
| Mobile poker apps | 5% (BB) | 10%-50% | Yes |
GGPoker
The GGNetwork poker rooms are the world leaders in terms of PLO4 traffic. This applies to all stakes, especially to the nosebleed ones. GGPoker has become the best poker room for playing Omaha due to the following features:
Wide range of stakes (from PLO2$ to PLO80K$).
Casual players from Asia.
Two regular daily races: Omaha Daily Leaderboard $20,000 (for regular tables) and Rush and Cash Leaderboard $25,000 (for fast-fold poker tables). No other poker room has permanent promotions for Omaha players.
Stable traffic throughout the day, including fast-fold poker.
| Stake | Tables |
| --- | --- |
| PLO2 | 14 |
| PLO5 | 11 |
| PLO10 | 12 |
| PLO25 | 10 |
| PLO50 | 14 |
| PLO100 | 12 |
| PLO200 | 6 |
| PLO500 | 5 |
| PLO1k | 2 |
| PLO2k | 4 |
At the same time, you should not forget about several disadvantages of playing PLO at GGPoker. Firstly, the rake is taken even from the hands that didn't reach the flop if the pot size exceeded 25BB. Also, the minimum initial buy-in is just 25BB.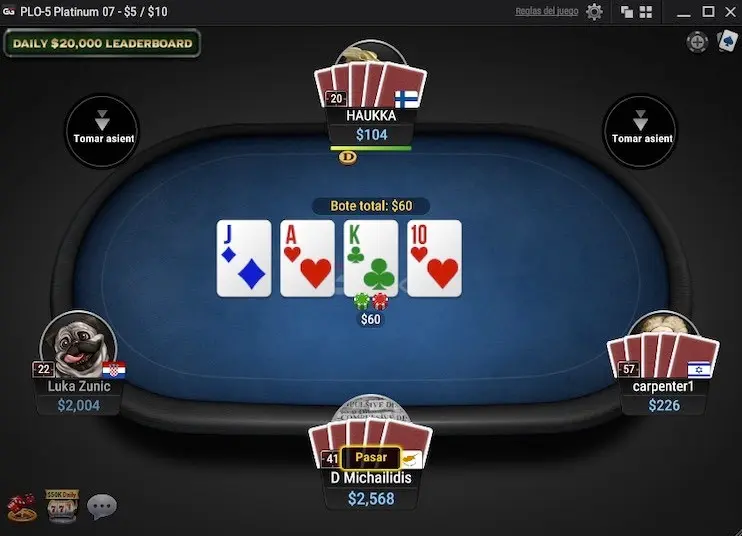 Upoker
The mobile poker apps combine all the Omaha advantages of the best classic poker rooms (soft playing field, high traffic, good rakeback, and HUD support).
In fact, the apps boast higher Omaha traffic than the well-known poker rooms, but it is broken down by hundreds of clubs. Also, different clubs have their own range of stakes, table sizes (including HU Omaha), and traffic peak times.
Due to the cashier system's specifics and the poker client's unusualness, we recommend mobile apps to experienced Omaha players. Beginners should consider the TOP-1 among the best poker rooms.
PokerKing
The US-friendly WPN poker rooms are attracting Omaha players for many reasons:
Traffic peaks late at night and early in the morning, when most competitors have just a few active tables.
The loyalty system allows you to receive a rakeback from 12% to 65% or opt-in for a fixed rate of 27%.
HUD is supported.
It's worth noting that during the peak hours, the number of active tables at any of the seven stakes ranging from PLO2$ to PLO600$ is nearly the same (5-7). It's rather few for low-stakes, but for PLO50$+ players, it should be more than acceptable compared to other poker rooms.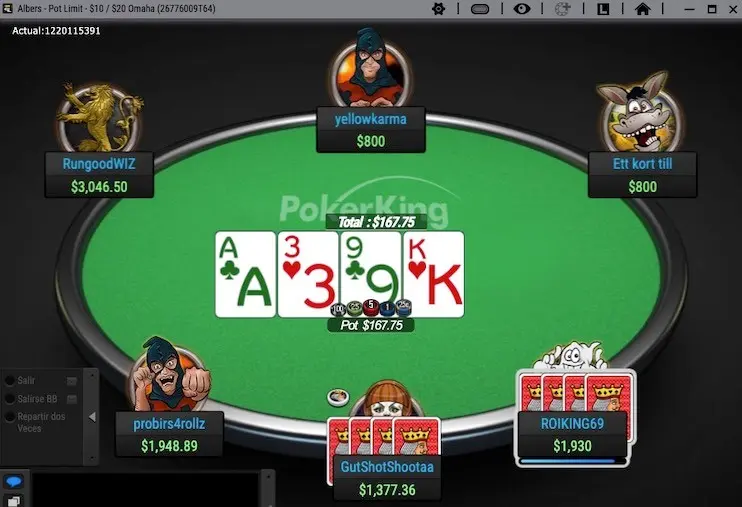 For the fans of experiments, WPN offers unique 9-max 7-Day No Rathole tables at up to PLO40K$ stakes with a minimum initial buy-in of just 10BB. Their main feature is the possibility to return to the table within a week, holding the same stack you left with last time.
Regs should consider that the table selection on WPN is restricted: you can see the aliases of the opponents only after posting the big blind.
BetOnline
Chico Poker Network is also focused on US players. There's no rakeback here, but the PLO playing field is much softer. 
The classic PLO4 cash games are mostly played at up to PLO100$ stakes (from 6 to 12 active tables at each stake). You'd have to include some WPN poker room or mobile apps to get enough higher-stakes tables in your session.
How do we choose the best Omaha poker sites?
We choose the top PLO poker sites according to the two sets of criteria. Basic ones that do not directly affect the win rate but ensure comfortable playing conditions:
Reliability - licenses and certificates of RNG verification, security, game integrity, and player feedback.
Software – general convenience, interface, manual adjusting options, and stability.
Deposits and withdrawals - supported payment systems, processing speed, and cashout terms.
And the ones directly determining the profitability of Omaha games at a particular poker room:
Bonuses – rakeback terms and percentage, taking into account the rake rates.
Traffic – range of available stakes and number of active tables during peak hours.
Field softness– average level of opponents and percentage of casual players.
How to play PLO poker
The game is similar to Texas Hold'em: two players to the left from the button post blinds; the list of available actions includes fold, check, call, bet, and raise; there are four betting rounds - preflop, flop, turn, and river.
Betting rules
This is an advanced task for the most popular version of the game - Pot Limit Omaha (PLO). The name speaks for itself - there are some betting limits, so you can't go all-in anytime.
Everything is straightforward regarding the minimum bet amount - it is equal to the 1 big blind. But you will have to remember elementary math to calculate the size of the raise.
In PLO, the minimum raise is equal to the size of the previous raise, and the maximum is limited to the size of the current pot after calling the opponent's bet.
Showdown
According to the live Omaha rules, two possible scenarios exist when two or more players go to a showdown.
The player chooses two of his four pocket cards himself and puts them on the table face up. If he wins, he must reveal the remaining two cards. In this case, the player accepts full responsibility for choosing the best possible hand.
Alternatively, the player reveals all 4 pocket cards at once, indicating the two of them that he wants to use or asking the dealer for help. This is a more reasonable option that dummies should definitely choose.
The player with the strongest hand wins. In the case of two or more hands of the same strength, the pot is split equally.
Hand rankings
Omaha's hand list is identical to Hold 'em, but there's one significant difference.
The obligatory rule for making any hand is "2 + 3", where 2 relates to hole cards and 3 to the board cards. There are no exceptions to this rule in Omaha!
This is an important point that often leads to confusion for beginners. Therefore, we again focus on this: a player cannot use one, three, or all four of his pocket cards to make a hand. And you have to use precisely 3 out of the five community cards.
This limitation reduces the likelihood of monster hands, for example, preflop four of a kind.
Tips for Omaha poker players
Four pocket cards in Omaha are very deceptive, and they can give false confidence that you have a solid or, vice versa, weak hand. Community cards affect the final result much more than in Hold 'em.
We mean that the decision of whether to enter the pot preflop is perhaps the most difficult in this game. For example, there are 1,326 unique starting hand combinations in No-Limit Hold 'em, while we are talking about 270,725 in Omaha.
For beginners, we advise you to see the flop only if your four pocket cards meet the following conditions:
Allow you to collect the nuts;
Increase the probability of making a flush (2 cards of one suit + 2 cards of another suit);
Make it possible to make straight (connectors, like 67 or TJ).
The main mistake of a beginner is to play hands that satisfy only one of these requirements. Such starting hands are also considered weak and have to be folded preflop. You'd better leave the bluffs for Texas Hold 'em.
More tips:
Strictly follow bankroll management rules. Beginners should play at micro and low-stakes - chasing higher stakes is a recipe for bankruptcy. Don't lose your head, calmly evaluate your odds, don't be afraid to fold, stick to the chosen strategy, and forget about your bankroll's size.
Choose poker rooms that offer a high rakeback percentage. Due to the large number of pots you participate in, including multi-way pots, you generate a lot of rake. Therefore, the bigger share of it returns to your balance, the less the impact of variance on your game results.
Differences between Hold 'em and Omaha
Switching from Texas Hold 'em to Pot Limit Omaha is akin to the evolution of Apple smartphones. The functionality is wider, but it takes more time to familiarize yourself with all the features. And the desire to change the poker variant is often associated with an internal need to try something new.
The main difference is the four pocket cards instead of two. All other principles are classic: preflop, flop, turn, river with betting rounds between them, and the showdown in conclusion. The winner is the one whose 5-card hand is stronger.
But an important and key point for Omaha is the difference in the hand making rules: each player has to use exactly 2 hole cards and exactly 3 community cards. This is a strict rule - you can't use more or less cards. For example, if you receive four pocket aces in Omaha, you can play only two of them.
So Omaha is a very action-packed poker variant. Strong hands are easier to make here - you will not surprise anyone at the table with a top pair or even a set. And this is the most common trap for beginners - the relative strength of hands may not be as good as it seems at first glance. After all, a straight or a flush can be made by several opponents at once. And the pot should go to the player who has the strongest one (usually ace-high).
As for the hand rankings, everything is the same as in Hold 'em: from high card to royal flush.
Omaha variations
Texas Hold 'em can be played in no-limit, fixed limit, and pot-limit formats, while Omaha has 5-card, 6-card, and Hi-Lo variations. 
PLO8 (Omaha Hi-Lo)
The rules of Omaha Hi-Lo allow two players to win a share of the pot simultaneously: the one with the "high" hand and the one with the "low" hand. In this case, the pot is split equally.
We already know how to determine the strongest "high" hand. "Low" hand must consist of five different cards ranked 8 or below. The best possible is 5, 4, 3, 2, A straight ("wheel"). It is easy to figure out whether one of the players can have a qualifying "low" hand: there must be at least three cards ranked 8 or below among the five community cards. The strongest "high" hand wins the entire pot if this condition is not met.
One player can win both the high and low halves of the pot, and this is called a "scoop."
5 Card Omaha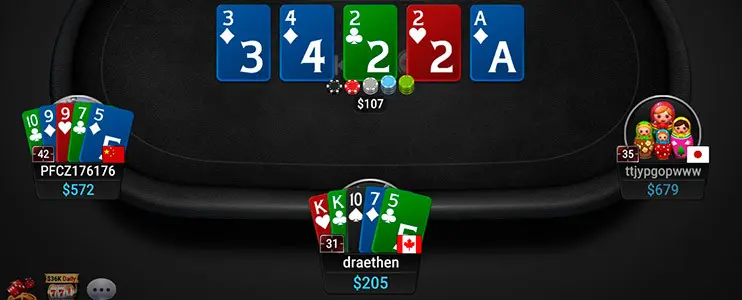 The 5-card PLO rules are identical to the 4 Card Omaha, and the only exception is five pocket cards - hence the name. You still have to use precisely two pocket cards and three community cards to make a hand.
Your chances of making a strong hand in 5 Card Omaha are higher - but the same goes for your opponents.
6 Card Omaha
You guessed it right - 6 pocket cards is the only difference. It's even easier to make very strong hands and harder to make correct decisions simultaneously. The tension is rising, as is the popularity of this Omaha variation, which appeared in 2013.
Summary
Although Omaha continues to be inferior to Hold 'em in most poker rooms, the popularity of this poker variant is growing at a faster pace for the following reasons:
More action-packed hands.
More casual players who enjoy playing "creative poker" with more pocket cards.
The much lower level of the game strategy development, thus fewer strong regulars. 
The ability to receive higher rakeback per the same number of hands played.
Therefore, PLO is more popular than Hold 'em in new poker rooms, mostly mobile apps.
FAQ
✅ What are the best sites to play PLO in 2023?
GGPoker – hundreds of active tables, great high-stakes traffic, permanent promotions for Omaha players, and the loyalty system.
Mobile poker apps – three different Omaha formats, casual players from all over the world, soft playing fields, and a wide range of stakes.
Winning Poker Network – high rakeback for grinders, weak opponents from the US at all stakes.
Chico Poker Network – soft field with US players, a separate race for Omaha cash game tables. 
✅ Is PLO more profitable than NLHE?
Since the average skill level of Pot Limit Omaha poker players is lower than in Texas Hold 'em, regulars can win more money. Many players are ready to call your bets with marginal hands and dominated draws, making this poker games even more profitable.
But this is only possible if you take advantage of all ways to reduce the variance (proper bankroll management, stress resistance, regular play) and constantly improve your skill away from tables.
✅ Is PLO solved?
Ready-made solvers exist only for four cards Omaha. This is not the case for PLO5 and PLO6, and it's improbable to change in the coming years.
✅ Is PLO popular nowadays?
In classic online poker sites like Pokerstars, Omaha is second only to Hold 'em regarding the number of active tables. Still, it already delivers more traffic to the mobile poker apps than NLH. So the popularity of four cards PLO is high and grows every year.
✅ Can I find online tournaments for Omaha?
Yes. There are scheduled PLO tournaments at all top poker sites. GGPoker hosts a dedicated $3,000,000 GTD Omaha series several times a year.
Benefits of our affiliate service:
Top rakeback deals for pro players
Exclusive rake races
Professional customer service seven days a week
Contact us to get a deal and start playing now: