Bomb Pot Poker: What is it and How to Play?
Bomb Pot Poker: What is it and How to Play?
Bomb Pot is an exciting poker variant where all players pay ante before any cards are dealt. The hand then starts directly from the flop. You can try this poker game online at WPN, PPPoker, and Poker Bros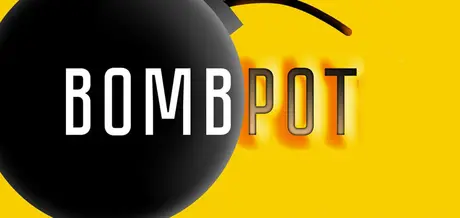 What is a Bomb Pot in poker?
Bomb Pot is a unique way of playing Texas Hold'em or Omaha PLO. Instead of posting blinds, all players place an ante bet. The action begins after the dealer has dealt the flop.
Generally, in live poker, these games are played by agreement. Online, Bomb Pots hands are triggered randomly. The first Bomb Pot was played at the Casino Royale in California in 2009.
We can call bomb pots "exploding pots," because huge multi pots are often formed during the hand.
For example, the players bumped the pot to $10.8K in this video, over 2,160 ante of the limit being played!
Bomb Pot can be played at almost any poker table: Hold'em, Omaha, Short Deck, Hold'em 3-1, Mixed games.
Bomb Pot rules
Bomb Pot is played according to the following rules:
Players pay an ante. The pot size is usually several big blinds (4 to 15).
Cards are dealt.
The dealer reveals the flop cards.
Betting starts with the first player after the button.
In online poker, certain sites may have added new features to the classic bomb pot. For example, PPPoker club administrators can set up tables to have bomb pots every hand or change the ante size.
Bomb Pot with double board
At Doug Polk's poker club, The Lodge, every bomb pot game is played with a double board.
You can win half the pot if you have the best hand on one board, but you can only scoop the whole pot if you have the stronger combination on both boards.
Of course, winning without a showdown is possible, but in PLO bomb pots featuring two boards, a showdown will likely happen. This is because there's a high chance of "catching" at least one board and getting a share of a huge pot with "dead" ante money.
The Lodge has another interesting rule in Bomb Pot Hold'em. The player on the button can choose to play NLH or PLO after the flop.
An example of a bomb pot with a double board in Omaha:
Where to play Bomb Pot online?
Bomb Pot is available on Winning Poker Network skins and mobile poker apps like PPPoker and PokerBros; look for the bomb icon in the lobby.
At PokerKing, ACR, and BCP, up to half of the 6-max and 9-max active tables can feature Bomb Pot. Stakes range from $0.01/$0.02 to $100/200.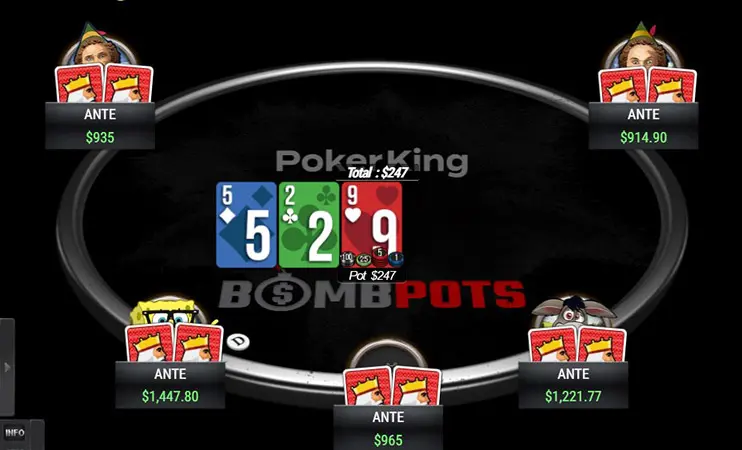 WPN's Bomb Pot hands are randomly triggered 4 times per hour. The ante is 2BB on full rings and 5BB on short-handed tables.
Bomb Pot games at PPPoker and Pokerbros vary significantly from club to club, so reading the rules before joining a table is always good.
Strategy tips
A bomb pot is usually a multi-way pot with a high variance. With that being said, there are some recommendations to keep in mind:
You cannot determine the range of your opponents' hands on the flop. It's 100% random. After the turn, you can only estimate the range based on players' reactions to bets and changes in board structure.
Don't overestimate your hand's strength. Remember that opponents are likelier to hit a strong combination on a "free" flop.
Never bet on a flop when you are out of position.
The less coordinated the board cards are, the larger the bet needs to be to "scare" players with medium-strength hands.
Pay attention to the statistics. Players tend to play straight in these spots. You can filter BombPot situations in the HM3 report using the line in the filter: NumberOfPlayersSawFlop >= 5 AND FlopPotSizeInBB >= 10.0
Contact us to get a top rakeback deal:
Frequently asked questions (FAQ)
✅ How to play Bomb Pot?
✅ How does a bomb pot work online?
✅ When are Bomb Pots played?
✅ Are Bomb Pots games profitable?
✅ What online poker sites have Bomb Pots games?
✅What makes Bomb Pots so fun?