Software ban and other new features from the PPPoker security team
Software ban and other new features from the PPPoker security team
The world's largest mobile poker room, PPPoker, had made a significant security update. It included four points at once and is aimed at "creating a fair and safe environment for all players." What exactly does this sentence mean — we will tell you in this article.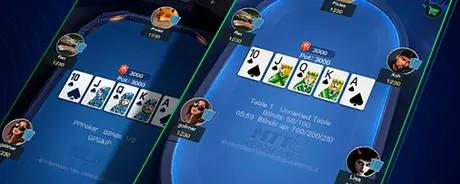 Security first
Mobile poker rooms are evolving more and more like classic sites. Many of them have dedicated security teams (like Game Integrity Bros at PokerBros) and their own anti-cheating tools. PPPoker recently announced new ways the app is going to protect the games.
Auto Interception System: 24/7 automatic tracking system monitoring the tables checking about 100 indicators of player behavior. It is aimed at identifying collusion and bots.
Captcha: an already known technique used by other rooms as a way to deal with automatic games. Now club administrators can turn this feature on at any table, and players will have to pass a random test to keep playing.
Restrictions on joining tables:

PC Restriction: you can play only from the mobile app.
Linked Email Restriction: only by linking an email to your account.
GPS/IP Restriction: only if you have a specific location.
However, the most crucial change, as always, was at the very end.
The fate of poker software
The three points described above are, in principle, understandable, and should not concern honest players. But the following one will raise questions from regulars, for whom it's crucial to use poker software, in particular, hand converters for HUD:

"Prohibits the usage of simulators and third-party software."
We have not recommended using emulators to our PPPoker players for a long time since a PC client supports multi-tabling. But in the case of a hand converter, the question is still open, and its decision is likely to depend heavily on the administration of individual clubs.
The developers of the converters assure us that their software cannot be detected. There are no precedents of sanctions against players for any third-party software. In extreme cases, you can use the built-in HUD in the PPPoker app. We will immediately notify you of any changes in this matter.
Advantages of our affiliate service:
Award-winning affiliate with nearly a decade on the market;
Your funds will be fully guaranteed;
The highest rakeback deals on the market;
Fast payments via cryptocurrencies (BTC, USDT).
Reach our team to find out more information about our PPPoker rakeback deal and start playing with us: