Best Fast Fold poker sites 2023 | Where to roll?
Best Fast Fold poker sites 2023 | Where to roll?
Fast-fold poker (aka Fast poker, Fast Fold, Speed poker, or Zoom) is currently offered by all the top online poker sites. But each poker room can have its own unique features, which may affect your choice. We figured out all the little things to help you make no mistake. Read on to find all the details.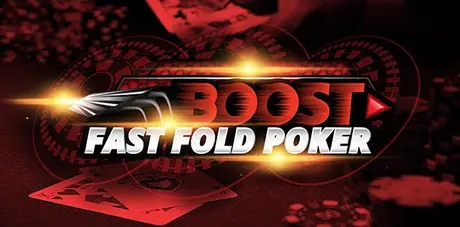 What is Fast-fold poker?
Fast-fold poker is an online poker cash game variation where players are moved to another table to start a new hand right after a fold.
The concept of fast poker games was first introduced back in 2010 by Full Tilt Poker under the name "Rush." The addition of an option to move to a new single table after a fold or at the end of a current hand has greatly increased the level of action even without the multi-tabling.
All players of the same Zoom stake form a shared pool. At the same time, fastfold poker requires a considerable number of players if the game is configured to start a new table only after it is fully filled.
To avoid getting almost the same opponents in many consecutive hands and to make the game really fast, there must be at least 50 active connections at the particular stake.
Best poker sites to play fast-fold poker
Based on traffic requirements, we picked the best sites from those that have 50+ active players at several stakes, at least during peak hours.
Fast-fold poker variety
Over the past 12 years, all the major online poker rooms have introduced their own versions of fast-fold poker with unique features and names.
What are the differences between Rush & Cash, Zoom Poker, and others?
Essentially, nothing. The differences usually come down to the range of available stakes, HUD support, and the rakeback.
| Poker site | Fast-fold poker |
| --- | --- |
| | Rush&Cash |
| | Zoom |
| | Blitz |
| | FastForward |
| | Snap |
| Bodog | Zone |
| | Boost |
| | Flash |
GGPoker - Rush & Cash
GG Network was the last top poker site to introduce its version of quick fold poker. Initially, the game was played in CNY and used the big blinds ante concept. It was updated to become similar to the classic version of fast-fold poker less than a year later.
There are seven stakes ranging from $0.01/$0.02 to $1/$2 for both Holdem and Omaha.
High traffic at all stakes around the clock.
100+ connections at any stake throughout the day: 500-600 at NL2$–NL10$, 200-300 at NL25$–NL100$, 100-150 at NL200$. Omaha traffic is 4-5 times less.
Daily $25K Leaderboard.
Up to 600BB reward in random cash drops.
PokerStars - Zoom
Zoom Poker was launched in 2012. Like at GGPoker, there are both Hold 'em and Omaha pools. Moreover, you can even play 9-max Zoom at NL2$ stake.
There are enough active connections at up to NL500$ stakes in the European evening. Still, the lower stakes of up to NL100$ inclusive are the most popular, with 100+ connections during peak hours.
Is Zoom profitable at PokerStars?
PokerStars Zoom can be very profitable, but only for experienced players who constantly improve their skills.
On average, the fast-fold poker win rates are lower than at regular poker tables. Due to the large player pool, there will be many unknown opponents. Even the weak ones play more tightly, while the average percentage of regulars is high.
Partypoker - Fastforward
The main feature of fastforward poker is the ability to play up to 9 tables simultaneously. Although, given the specifics of fast-fold poker, only the most skillful players can take advantage of it.
The latest management decisions decreased the number of fast-forward poker players: terminated regular cash game races (2021) and left Russia (2022). At the same time, this harmed the overall traffic, especially fast-fold Omaha.
Currently, partypoker has acceptable traffic only at NL2$, NL10$, NL25$, and NL100$ stakes. Regarding PLO, there are only action at PLO25$.
888Poker - Snap
Snap Poker is a fast-fold poker variation from 888Poker. Like everywhere else, players proceed to the next hand right after folding.
Snap was introduced in test mode back in 2013. Since then, the only major update happened in 2020, when HUD support appeared.
In terms of traffic, local Snap Poker is actually limited to five stakes of up to NL50$ inclusive. The most popular ones (NL2$-NL10$) have up to 100 active connections during peak hours, NL25$-NL50$ - up to 40. Occasionally, there can be some action at NL200$.
Blitz poker on Winning Poker Network
Blitz poker appeared on this US-friendly network in 2020, coinciding with the launch of a new poker client. 
There are only 3 active stakes: NL10$, NL50$, and NL200$. You can find 100+ connections at each of them.
Interesting fact: Blitz poker sometimes attracts 20-30 entrances at the NL1,000$ stake in the European morning, which is actually the highest fast poker stake.
KKPoker - Flash
KKPoker is a unique case: it holds a gambling license, features massive traffic, uses a direct cashier (no agents are needed here), and is the only mobile poker app with a fast-fold poker variant. Flash (KKPoker Zoom) is offered across six stakes from NL4 to NL200, although our scouts report traffic only in the first five (the highest stake available is NL100, with almost 70 connections during the peak time). 
The conditions are very similar to other rooms (5% rake, 3bb cap, direct cashback, and VIP rakeback from us), but recall that this site can only be played on mobile devices; hence you can expect extremely soft traffic.
Bodog Poker - Zone
Zone Poker is identical to all the fast-fold poker variations above. It is designed to minimize the average time between the hands.
Although the poker client features both No limit hold'em and Pot limit omaha cash games, only NLH attracts some traffic at six stakes ranging from $0.02/$0.05 to $2.5/$5.
Fast-fold poker strategy
One of the main differences of fast-fold poker is the constant lack of information for you and your opponents because every hand starts at a new table. Due to this, you should pay less attention to balancing your ranges and stats.
This makes us learn how to play against average opponents at a particular stake: you must understand how they usually play and adapt to it. By default, we can assume that opponents, even recreational players, are tighter preflop and more aggressive postflop compared to the regular tables.
Start with a conservative approach to the game: it may not make you the most winning player, but at least save your money.
The first thing you need to learn in fastfold poker is to quickly detect weak players and tag them if possible. Here are some signs that will help you:
Short or unusual stack sizes.
Country (players from some countries are more likely to be casual).
Maximum 2 connections (playing at 1-2 tables simultaneously).
Active chatting.
You can spot all the above even before the cards are dealt. Don't forget to notice other "fishy moves" during the game, such as limping, unusual 3-bet sizings, weak postflop bets, and odd lines/moves.
Differences between Fast and regular poker games
The main difference come from the "quick fold" option. It leads to significantly more number of hands played per hour on average and the lack of information on opponents.
FAQ
Now let's answer some of the most commonly asked questions about Fast online poker:
✅ How does fast-fold poker work?
After the cards are dealt, a "quick fold your hand" button appears. If you don't like the pocket cards, you can click it to be immediately transferred to a new table and get new cards.
✅ Сan I play fast-fold poker on mobile devices?
Yes. You can play directly on your mobile device via KKPoker. All poker rooms that offer fast-fold poker provide an option to play it via mobile app and desktop client.
✅ Are there fast-fold poker tournaments?
Yes. They are offered by two poker sites: PokerStars and 888Poker.
✅ Can I play Omaha or other games in the fast-fold format?
Yes, but only fast-fold Omaha is available at three poker rooms: GGPoker, PokerStars, and 888Poker.
✅ Is fast fold poker suitable for beginners?
Yes, but only for those who are tilt-resistant, strictly follow the bankroll management rules, and do not deviate from the classic pre flop TAG style.
✅ Can I use a HUD to play fast-fold poker?
Yes. It works at PokerStars, 888Poker, and on Winning Poker Network.
✅ Is fast-fold poker profitable?
Fast-fold poker allows you to increase your $/hour rate by playing more hands. Therefore, the profitability of playing fast-fold poker depends on whether your skills allow you to take advantage of this.
✅ Can you make a living playing Zoom poker?
Even playing at low stakes, it is possible to earn several hundred dollars a week from rakeback if you spend enough time at the tables, choose the right site to play, and can at least break even at your chosen stakes.
✅ How many hands per hour can you play in fast-fold poker?
On average, you will be able to play 200-250 hands per hour at one table.
Advantages of our affiliate service:
VIP rakeback deals;
Professional support seven days a week;
Contact our manager to get yourself a deal.