World Poker Tour and Theta Network partners to launch an NFT marketplace
World Poker Tour and Theta Network partners to launch an NFT marketplace
Non-fungible tokens (NFT) and poker were meant to be together. The hype on the collectible items went through the roof during the past months, and as with the cryptocurrency market, poker players were one of the most interested.
Poker and NFTs
In short, an NFT is a unique piece of code that gives the owner its property, although anyone can publicly see it. Any content, such as artwork, messages, collectibles, etc., can be "tokenized" and be sold. Non-fungible tokens are stored in a blockchain, just like Bitcoin.
The hype on non-fungible tokens (NFT) began just a few months ago with the selling of millionaire pieces of digital art. The famous player Joey Ingram declared himself a fan of one of those projects (OMI), and other grinders have posted their investments in other companies.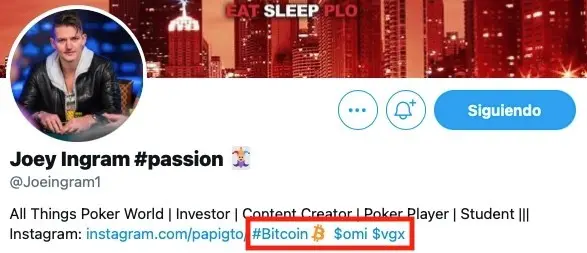 World Poker Tour and Theta Labs
In January 2021, Theta Labs (a decentralized video delivery network built for media and entertainment) announced that World Poker Tour (WPT) added the Theta Network protocol to its platform, launching Theta TV, a 24/7 poker channel based on Blockchain. The main benefit for viewers was a reduction of costs up to 50%.
Now, both companies have announced a real-time NFT marketplace during Season XVIII of the World Poker Tour, airing on Sunday, April 18.
April 18, 2021 – Theta Network WPT Cash game, part 1
April 25, 2021 – Theta Network WPT Cash game, part 2
May 2, 2021 – Theta Network WPT Cash game, part 3
May 9, 2021 – Theta Network WPT Cash game, part 4
How does the real-time NFT marketplace work?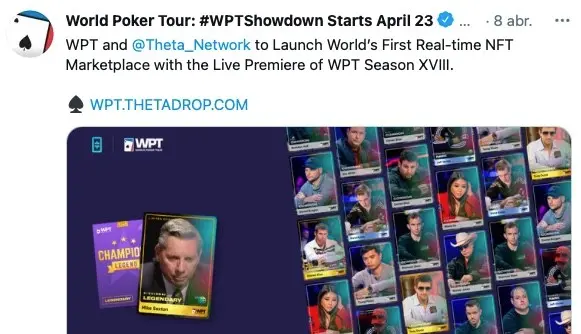 In-show advertisement will lead to the NFT marketplace where viewers can purchase exclusive WPT packs and "unique legendary poker moments" in the form of collectible cards. The organization announced a tribute to Mike Sexton, who passed away in 2020 with an action card: "Mike Sexton: The Legend Hand" NFT. Pre-registration is already open for all of those interested.
"We are thrilled to bring some of our top Poker pros, players and celebrities to the NFT world, featuring rare and legendary WPT packs in weekly drops and running exclusive one of a kind auctions for super rare poker moments." Said Adam Pliska, CEO of the World Poker Tour.
Why is this good for poker?
Although at first sight, it might seem that NFT and poker are unrelated, let's recall that the industry keeps reinventing itself, and this is just another step in the hunt for amateurs. Sites like partypoker and PokerStars have announced the interest in the eSports market, and now collectible items that can boost their price anytime can become the next thing in giveaways.
Many viewers and players are excited about the possibility of "watching live poker and being able to buy memorable hands and bad beats in real-time." Time will tell how popular poker NFTs become.
Would you like to play online poker? Send us a message now. We are online seven days a week!
Telegram: @alexey_wpd
Skype: live:newbheartstoned
WhatsApp: +66658566798
Email: [email protected]
Stay tuned on our Telegram channel for more EV+ news