CoinPoker hosted the biggest pot in online poker history
CoinPoker hosted the biggest pot in online poker history
On Sunday, January 16, 2022, one of the oldest online poker records was broken. The biggest pot in online poker history of $1,820,663 was played at Coin Poker between Leon Tsoukernik and Tony G at the PLO $1K/$2K stakes. Read on to find out how and why it happened in this particular poker room.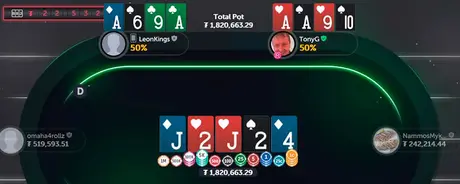 Tony G is on fire
The well-known Lithuanian businessman and poker player invited everyone to his crypto poker room Coin Poker to play at $100/$200 stakes. He began to actively post screenshots on his Twitter account for this occasion. 
As a result, Tony attracted several well-known high rollers: Leon Tsoukernik, Paul Phua, Ivan Leow, Wiktor Malinowski, Laszlo "omaha4rollz" Bujtas. The maximum available PLO stake was raised to $3K/$6K (USDT).
The action peaked on Sunday at $1,000/$2,000 Omaha stakes. The record-breaking pot was played at late night:
Leon Tsoukernik and Tony G shoved preflop for a $1,820,663 pot and eventually split it. It became the biggest pot in the history of online poker.
At another similar table on the same day, the Kings Casino owner lost $1,218,919 to "omaha4rollz". 
The previous record of $1,356,947 stood for almost 13 years and was set in a PLO HU game between Isildur and Patrik Antonius. Even considering inflation, European businessmen still played for almost $60K more this time.
Exciting New Year resolutions
What is behind such an unexpected and long-lasting ($100/$200 cash games are going for more than a week already) high-stakes activity at the poker room that is mostly unknown to the players and occupies only 44th place in the world ranking?
After all, Tony G and his friends and acquaintances usually played and set records on GGNetwork before that. Several years ago, he founded Coin Poker and did not show such activity at its tables. Still, the poker room continued to develop slowly: it switched to playing in USDT and transferred all transactions to Polygon Network because high-stakes players mainly use cryptocurrencies these days.
Apparently, Antanas Guoga decided to help his Coin Poker out of prolonged stagnation. From the first days of the year, he began to actively write about the poker room on Twitter. In addition to the high-stakes cash games, he organized a mini-series of three tournaments with buy-ins ranging from $5K to $50K. 
On a recent podcast hosted by Jeff Gross, he said:
«It's a very interesting project, I really love it. I think it's going to start growing quite significantly, so I do suggest for everyone to come. There are freerolls, you don't even have to make a deposit to try it out.»
Coin Poker traffic
The news about the high-stakes games at the poker room quickly spread on the poker forums. Even players who did not receive a personal invitation from Tony began to join them. But has anything changed at lower stakes?
Last night we monitored the Coin Poker lobby and, in addition to the high-stakes tables, we found the following ones:
| Stake | Tables |
| --- | --- |
| NL2$ | 6 |
| NL5$ | 4 |
| NL25$ | 4 |
| NL50$ | 1 |
| NL100$ | 1 |
| NL200$ | 3 |
| NL1-2K$ | 2 |
There were only seven Omaha tables, including PLO5. Except for one at $5/$10 stakes, all of them were played at up to PLO25$ stakes. These figures are slightly higher than we observed just a month and a half ago. 
What else Tony G is preparing at Coin Poker, and whether he will be able to further promote his poker room, which is already the largest one among the crypto-friendly competitors? We should most likely find it out in the coming months.
Check out our CoinPoker review and reach our team to enjoy the benefits of our affiliate service:
VIP rakeback deals
Professional support seven days a week;
Contact our manager to get yourself a deal.