Double Board Omaha at PokerBros
Double Board Omaha at PokerBros
Omaha tables with two boards — Double Board, have appeared in the PokerBros application. This is the fifth version of this format in the poker room. Why is Omaha so trending?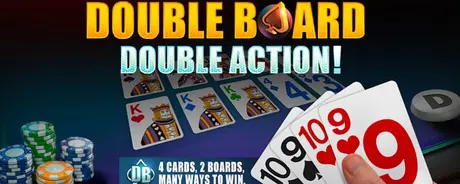 Double Board Omaha
This year PokerBros has greatly expanded the range of available formats. We have already written about such new games — Fixed Limit, Spins, and AoF tournaments. Now, another PLO variant was added.
PokerBros has added a new game format — Double Board Omaha, a classic 4-card version featuring two boards.
In the lobby, such tables can be identified with a DB tag. It cannot be said that PokerBros is the pioneer in this format, even online. PokerStars launched an identical game (Split Hold'em and Omaha) two years ago.
Even earlier, a game called "Double Omaha" or "Double Board Omaha High" was launched in the casinos in Las Vegas and Monte Carlo.
How to play Double Board Omaha?
The second board gives Omaha some unique features. First of all, players have to revisit the value of starting hands and the size of the bets. Their correct choice becomes even more important because the players are now chasing both parts of the pot. Suited connectors with high and low cards will become more valuable as those allow you to achieve this goal.
If the players make a strong hand only on one board and face large bets, it would be better to give up because the maximum win, in this case, will be only half of the pot. If someone beats you or has the best hand, you can even lose the entire stack.
Why is PokerBros adding another Omaha format?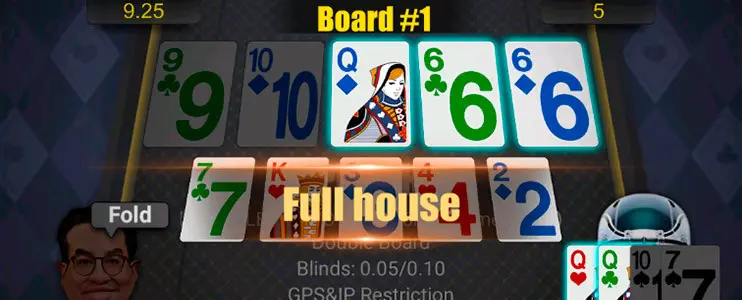 As we wrote above, this poker room offers its players a wide range of game formats under the "Omaha" name. These options include 4-5-6 pocket cards, high, and high low, pot limit, with and without an ante, with stakes up to 25/50.
Such attention to this poker format is not accidental. Most of the players in top PokerBros clubs are American amateurs who love action in every hand. Two boards give the impression that they can be "hooked" with almost any starting hand, allowing recreational players to have more fun at the tables.
Benefits of our affiliate service:
Professional advice on choosing a club and installing software;
Free chips transfer between clubs;
Multilingual support seven days a week;
Chip guarantees
Discount in HUD and hand converter;
Top deal.
Contact our team to get more details about our PokerBros unique deal: