Why did GGPoker confiscate $180k from Tobias "dudd1" Duthweiler?
Why did GGPoker confiscate $180k from Tobias "dudd1" Duthweiler?
Author
Vargoso
Published
8/16/2020
Updated
4/7/2022
In addition to WSOP Online, GGNetwork was linked to a resounding story in August 2020. German player Tobias "dudd1" Duthweiler shared that he got banned, and $180k was confiscated.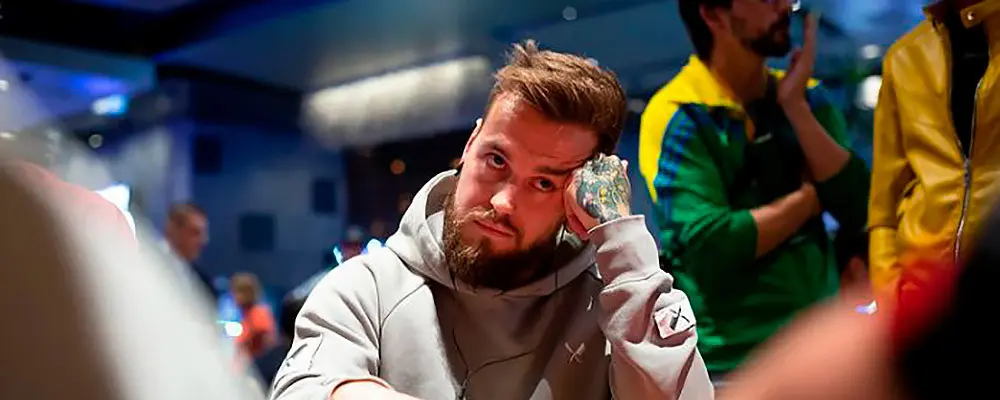 Tobias Duthweiler's version: banned for being a winning player
Duthweiler is recognized as a high roller at several poker rooms. At PokerStars, he goes by the nickname "dudd1". He described his relationship with GGNetwork as follows:
2016 — Joined Natural8 to play NL400 — NL1k. He won about $5k, and the poker room gave all his money back after blocking his account and informing him that he was no longer welcome on the network;

2019 —Tobias creates an account at BestPoker, but alleged unaware that BestPoker and Natural8 were on the same poker network. Here Duthweiler deposit about $40k and lost $85k;

2020 — The player moved to the GGPoker skin using the nickname "Ben ABC" and "successfully passed verification," and all his old accounts were deleted. Tobias was able to deposit $50,000, and after losing for a while, managed to boost his account to $180k.
The network then introduced a real-name policy for the high stakes tables, and the German went through verification again. But, shortly after that, he was banned, got his deposit back ($50k) and $130k was confiscated.
Tobias accused GGNetwork of banning him for "winning too much money" and highlighted that he was able to play for 1,5 years and paid a lot of rake, and only when he won was he banned.
He said the other option is that the GGNetwork security team was so bad that a banned player could hide from them for so long when he had no such intention because he verified his accounts.
GGNetwork version: banned for bumhunting and ignoring a previous warning
Tobia's case went viral on poker forums and social media. Many famous players, Daniel Negreanu, Steffen Sontheimer, and even Fedor Holz, joined the discussion among other top personalities. Of course, Joey Ingram did one of his investigations, although a very short one.
Most of the community is, of course, against the arguments of GGNetwork. Even the popular VeniVidi1993 said that GG also banned him in the past. What did the network say about it?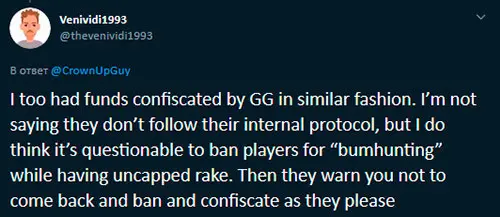 At first, GGPoker even mocked of the situation and even replied a Tweet from Patrick Leonard as follows: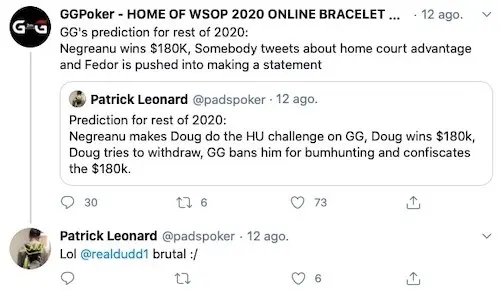 After this, the site was silent for a few days until yesterday when PokerNews shared a press release. The "Ben ABC" account at GGPoker was banned for creating a new account on the network after he was banned for bumhunting, so they applied a standard protocol that includes seizing funds.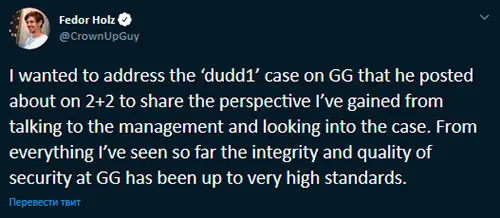 According to them, all the funds were returned to the affected players, and they didn't detect him because he signed up in different skins, and the network security team don't have access to their information. 
They confirmed that Duthweiler deposited via an affiliate and a P2P transfer, and all this money was returned as a gesture of goodwill.
They also recognized that their security system was weak.
"Our P2P transfer was too easy for the players. We have already removed P2P transfer for our UK customers and will be placing a strict KYC verification process and limits for all future P2P transfer."
What is bumhunting for GGNetwork?
We recently did a comprehensive review of the terms and conditions of the major poker networks, and one of the main characters was the GGPoker security and ecology agreement.
Since its founding, GGNetwork has stated that protecting casual players is a top priority. They do not condone bumhunting but also the use of GTO tools, automated scripts, etc.
From the statement released by PokerNews, we highlight the following:
"We consider both direct and indirect bumhunting. Direct bumhunting is defined as joining a table once the mark has joined and leaving shortly after the mark has left, even though the table has not broken. Indirect bumhunting is defined as refusing to give action to certain players while giving action to others."
Therefore, if you consider playing on GGNetwork, you will be bound to play, at least for a while, at any table you sit at, no matter who your opponents are. If you played at PokerMaster, you also know this rule.
You should carefully read all GGPoker terms and conditions and make sure you won't violate any rule, no matter what you think of the agreement. Keep in mind that even using a printed GTO chart may get you banned.
Our experienced team is qualified to advise you if your gaming strategy is welcome at GGPoker. Contact us to find out more information:
Telegram: wpd-support
Skype: wpd-support-skype
Email: [email protected]
WhatsApp: +905430740558
Stay tuned on our Telegram channel for more EV+ news
Review
Private clubs, rake stats, free hand histories, secret offers and more
Gambling industry news and insides, ratings of best poker rooms, bonuses, races and rakeback. The most undiscovered and fishy rooms of internet. Consulting and players' support. Working since 2013.
2013–2023. All rights reserved