New MTT features at PokerBros
New MTT features at PokerBros
Author
Vargoso
Published
1/14/2022
Updated
9/22/2022
Mobile platform PokerBros has added several modern MTT features, which reduce variance: Bubble Protection, final table deals, Run it twice. Only a few poker rooms can boast of such a set of features. This article will tell you more about them and the PokerBros MTT schedule.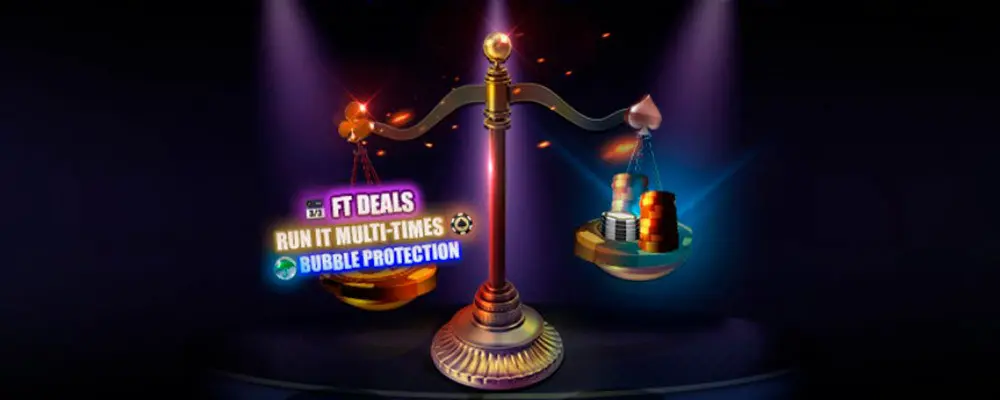 Reduce the Swings
All club based poker apps have specialized in cash games since their appearance on the online poker market. The situation has somewhat changed in recent years: tournament series with six-figure prizes have appeared, and large clubs have offered their own regular MTT schedules. Still, from a technical point of view, these tournaments do not have the same set of features as the ones at top classic poker rooms.
But recently, mobile apps began to bypass their desktop competitors:
All PokerBros clubs have added special features, which can be activated during the tournament setup process: Bubble Protection, final table deals, and Run It Multi-Times.
For example, the US-friendly Winning Poker Network only announced the plans to offer its players the possibility to make final table deals in 2022. The other two options are also not widely used, and all three are currently available only at GGPoker.
Bubble Protection – a player who has been eliminated right before the ITM zone (so-called "bubble boy") receives his buy-in back.
Deal – the "Deal" button is available on the final tables. If all the remaining players activate this option, then a window would appear, where everyone should see the default payouts and those calculated according to the current chip count. Players have 60 seconds to make a decision. All of them have to agree for the deal to take effect.
Run it Twice – when players go all-in on any street, they have the opportunity to request up to 3 boards to be dealt.
These features are presented to reduce the impact of variance on tournament results. 
What about the tournament schedule?
To take full advantage of all the new features and the ability to play with a HUD against the opponents from Brazil and USA, players need a more or less intense tournament schedule.
We have taken the Panamericana union as an example because its clubs are most loyal to MTT players:
Basically, the schedule consists of 8-max tournaments with buy-ins ranging from 40 to 100 (1 or 2 MTT's start every hour). On average, they attract several dozens of participants and offer up to 6,000 prize pools.
The biggest events are nightly Main's with 20K-25K GTD (buy-ins: 40-500). The vast majority of tournaments offer deep starting stacks with blind levels of 7-12 minutes. The situation is similar in other unions.
To play a session of several medium and high buy-in tournaments, you have to participate in MTT's from different PokerBros clubs simultaneously. If you prefer a narrower range of stakes, you will have to add tourneys from PPPoker, Upoker, or classic US-friendly poker rooms.
Read also – PokerBros launches AoF tournaments.
Benefits of our affiliate service:
Top deal.
Free chips transfer between clubs;
Multilingual support seven days a week;
Chip guarantees
Discount in HUD and hand converter;
Contact our team to get more details about our PokerBros deal:
Telegram: @David_wpd
Skype: Contact
WhatsApp: Contact
Email: [email protected]
Stay tuned on our Telegram channel for more EV+
Review
Private clubs, rake stats, free hand histories, secret offers and more
Gambling industry news and insides, ratings of best poker rooms, bonuses, races and rakeback. The most undiscovered and fishy rooms of internet. Consulting and players' support. Working since 2013.
2013–2023. All rights reserved