Where to roll? A fine room selection from a poker affiliate team
Where to roll? A fine room selection from a poker affiliate team
Online poker is a constantly evolving industry, and unfortunately, some changes go to the detriment of the conditions for professional poker players. This article throws regs a lifesaver with an excellent choice of online poker rooms to keep playing in 2021.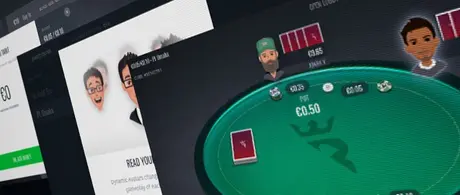 Alternative poker rooms: still profitable?
Some poker rooms operating in grey zones like PokerMaster cleared the path for a massive development in the online poker industry: club-based poker apps. After the Master collapse, other sites like PokerKing Asia and Red Dragon Poker emerged and are still options for those who want to swim into the Chinese poker world. However, those rooms can still be called hostile with regs.
Other sites like partypoker or GGPoker made unpopular choices like banning HUDs, or Chico Poker removed affiliate rakeback deals.
The tightening of screws is undeniable, but, in our opinion — it's still possible to make good money playing online poker. Working with almost all poker networks and seeing the big picture — we are sure of it. A few years ago, all eyes turned to China; now it's time to check alternative poker rooms from other countries, which may result even softer than the Asian ones.
Main alternatives and new opportunities in online poker
The principle of elasticity applies to online poker too. The worse the conditions — the less competition. That's why we suggest paying attention to exotic fields from countries non-flooded with regs.
At the moment, we can offer deals in over 100 poker rooms and clubs, meaning you have plenty of options to grind.
Asia beyond PokerMaster
Asia is still one of the most promising online poker markets. Despite the actions of the Chinese authorities against online poker development, there are still plenty of sites to play with wealthy amateurs, including gamblers living in all other Asian countries.
GGNetwork is currently the world's largest poker network. One of the reasons behind its success is serving Asian countries like China. After partnering with WSOP in 2020 to host bracelet events across the Internet to the ".com" pool, the popularity of the site has massively increased. Natural8 is the Asian-focused skin, although players share a common pool across all rooms.
IDNPoker is the biggest and less commented poker network on the market. The Indonesian site stands close to PokerStars and GGPoker, thanks to its massive traffic and popularity across the Asian market. Although its nuances make it an unfriendly site for many players, the softness of its field and unique rakeback deal from WPD makes it an appealing site for grinders.
KKPoker is an evolution of PPPoker and operates with a license from the Isle of Man, offering real money poker games for mobile fans worldwide. We include the app in this list because Japan is one of the most active countries.
Club-based apps
There is a reason for having a dedicated section for club-based apps: summing up all the traffic of the best poker unions, easily, we are talking about a TOP5 network.
PPPoker remains the largest poker app by market share. Currently, unions from Australia, Brazil, Europe, Latin America, Philipines, India, etc., are available to players around the globe. PokerBros conquered the USA market, and nowadays, the largest American unions operate here. On the other hand, Upoker focused on Asian countries, and after just a few years of development, alliances from India, Bangladesh, Israel are trending here.
New apps like X-Poker or ClubGG are entering new markets, offering favorable conditions to club owners or backing their operation in giants like GGNetwork; however, the traffic here is still almost nonexistent.
USA
While the legalization of online poker in the USA is "turtle" pace and is mainly focused on creating private reservations, grinders have found other options to play:
Chico Poker Network and Winning Poker Network — trusted networks with good rakeback and HUD-friendly; the traffic is incredible for NLH and PLO players, including full-ring tables, not to mention the millionaire MTT grid of each site.
Bitcoin poker sites — the sites working directly with cryptocurrency are preferred by American players. Right now, you can choose from many sites with a long history like SwC Poker or NitrogenSports, or take a look into new developments like Blockchain Poker.
Europe
In the Old World, there are also enough weak players and good poker rooms. iPoker Network is an excellent option with high rakeback and HUD, and you don't mind playing on your own (that is, without third-party software), partypoker still offers massive rakeback deals and a soft field for spin&go and fast-fold poker fans.
Round table service from Worldpokerdeals
For over seven years, we have worked out the "round table" format as a service for poker players to select the best poker rooms to play, considering personal needs: data mining, HUD support, traffic peak time, stakes, and format.
All our managers are added to a group chat, and as a team, we assist players in picking new rooms.
Each manager works with specific poker rooms and gets feedback from players. Therefore, we can see the big picture of winrate, features, and issues of every particular room we share with our players.
The round table will help players to:
Save a lot of time and quickly obtain critical information about poker rooms and networks;
Get the necessary test accounts in one place;
Receive information about possible risks and our guarantees (where they apply);
Choose the best option taking into account parameters like BB/100;
Know about VIP offers and private clubs;
Get free data mining in major networks;
You can request your round table by writing our team:
Stay tuned on our Telegram channel for more EV+ news.